The reigning Miss Pennsylvania USA Sheena Monnin quit the organization this week over its acceptance of transgender contestants but then changed her excuse to charge the pageant with being rigged, E! Online reports: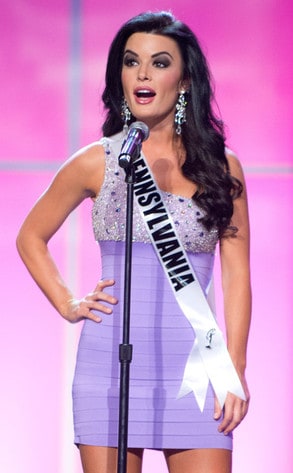 In a transcript of the email said to be from Mommim and provided by the Miss Universe Organization, the 27-year-old from Cranberry, Penn., wrote that she refused to be "part of a pageant system that has so far and so completely removed itself from its foundational principles as to allow and support natural born males to compete in it. This goes against ever moral fiber of my being. I believe in integrity, high moral character, and fair play, none of which are part of this system any longer."
Monnin claims on Facebook that she saw a list with the top 5 contestants before the pageant.
The Miss USA Pageant released a statement:
"The Miss Universe Organization can confirm the resignation of the Pennsylvania title holder after she did not place in the Top 16 at the Miss USA pageant," the pageant purveyor said in a statement to E! News.
"In an email to state pageant organizers, she cited the Miss Universe Organization's policy regarding transgendered contestants, implemented two months ago, as the reason for her resignation. Today she has changed her story by publicly making false accusations claiming that the pageant was fixed, however the contestant she privately sourced as her reference has vehemently refuted her most recent claim. We are disappointed that she would attempt to steal the spotlight from Olivia Culpo of Rhode Island on her well-deserved Miss USA win."
On the Today Show, Donald Trump attacked Monnin and said he would sue her.
Watch, AFTER THE JUMP…
UPDATE: GLAAD and the National Center for Transgender Equality have responded to Monnin's resignation.
Said Mara Keisling, President of National Center for Transgender Equality: "As a trans person and a Pennsylvanian, I'm disappointed that the now former Miss Pennsylvania feels such bigotry toward trans people. She says she is upset about a lack of honesty and fair play in the contest, but the real lack of honesty may be her unwillingness to publicly express her apparent transphobia. There is also a real need for allowing honestly by trans women who are being their true selves."
 
Said GLAAD President Herndon Graddick: "Sheena Monnin apparently decided to quit, rather than be aligned with an organization that treats all women as women. As more and more Americans get to know transgender people in their communities, in the workplace, and through the media, they are discovering the humanity that society has refused to acknowledge for so long. Monnin is out of touch with fair-minded Americans who believe that trans men and women are worthy of the same dignity, respect, and opportunity as all other men and women."
Visit msnbc.com for breaking news, world news, and news about the economy