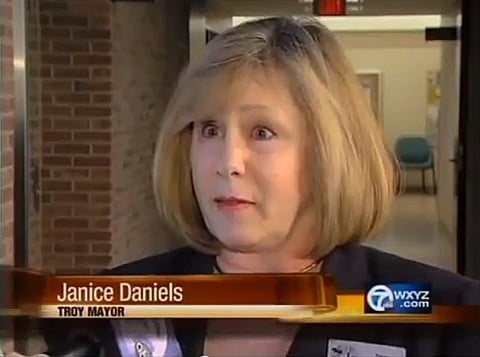 Troy, Michigan mayor Janice Daniels, who faced outrage late last year over a Facebook update that read "I think I am going to throw away my I Love New York carrying bag now that queers can get married there" and months later said she wanted an expert to testify that homosexuality is a mental illness at an anti-bullying forum spoke out again this week as she faces down a recall vote in November.
Daniels appeared on Charlie Langton's morning show Wednesday on Talk Radio 1270, CBS Detroit reports:
"What I said while I was mayor … I was in a business meeting, I come from a business perspective … I said that I would bring a doctor into a meeting that would say that the homosexual lifestyle is dangerous," Daniels said, adding,"Had I been with a group of smokers I might have said I would like to bring a doctor into this meeting to say that smoking is dangerous."
Is it dangerous to be gay? Langton asked.
"I think that doctors can make a case for it certainly," the mayor said, adding that she "had no opinion" on whether being gay is more dangerous than smoking.
This week, organizers of a recall campaign against her delivered signatures:
Organizers of the recall campaign reportedly delivered 9,300 signatures Tuesday to the Elections Division at the Oakland County clerk's office. The Detroit News said the group needed 7,985 valid signatures by June 15 to force the recall election — which means unless the signatures are challenged as invalid, the recall election will happen in November.
Watch WXYZ Detroit's report on the recall, AFTER THE JUMP…