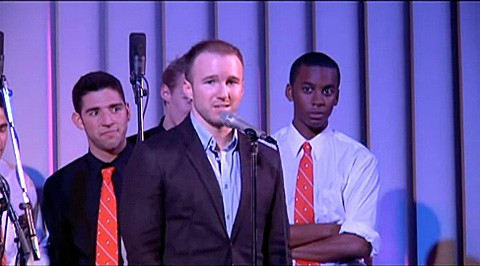 Alright, I know I proclaimed the last video my "must-watch" video of the day, but I think I have to revise that because here's another one.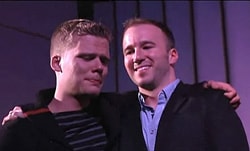 Towleroad reader Kyle Piers sent this in to me this morning.
He writes:
On April 28th 2012 I proposed to my boyfriend, Tommy, in front of 700 people at his former college a cappella group's spring concert that marked the 20th anniversary of the group (The Boston University Dear Abbeys), as well as the release of their new CD which my boyfriend had spent the last two years recording and producing as the group's then music director. I conspired with the group to call me up on stage so that I could propose in front of almost all the people dearest to us. You see, the Dear Abbeys are more than a college singing group, they're a family, they're OUR family, and I knew it was crucial that they be a part of the plan. The overwhelming amount of love and support we received that night, from friends, strangers, male, female, young, old, gay, straight, was just incredible to experience. That night, it didn't matter what beliefs people held, everyone there could see that love is love and that it knows no bounds.
We're hoping that the love we experienced from everyone could be shared with others – to offer hope to those struggling with their sexual identities or feeling isolated and scared, to educate those who may not agree with gay marriage, to promote equality and erase hate. Additionally, we will be getting married on October 12th 2013 in honor of Matthew Shepard's life and the legacy the Shepards have created with the Foundation's work in the world. If our story could help even one burdened soul, we'd feel accomplished.
Watch (and get out your Kleenex), AFTER THE JUMP…