Dharun Ravi's attorney's have filed a notice of intent to appeal his conviction in the Rutgers webcam case involving Tyler Clementi, the Star-Ledger reports: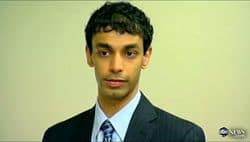 The notice, filed June 4 with the appellate court, lists the proposed issues to be raised, including that the bias intimidation statute is unconstitutional as applied to Ravi and that several decisions by Superior Court Judge Glenn Berman, who presided over the trial earlier this year, "prejudiced the defendant's ability to get a fair trial."
The appeal process could take upwards of two years before a three-judge panel hears the appeal. Ravi is currently serving a 30-day sentence in the Middlesex County jail.
Warden Edmond Cicchi of the county jail said last month that inmates at the jail are automatically awarded 10 days for good behavior, which would place Ravi's release date at sometime next week, since he began his sentence May 31.