Trish Cameron, a Minnesota fifth-grade teacher at St. Joseph's School in Moorhead, Minnesota was forced to resign after responding to a questionnaire given to her by the school which asked her about the church's teachings.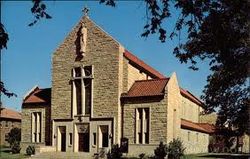 Cameron, who had been at the school for 11 years, said it was her personal support for gay marriage that got her fired.
In a letter sent to St. Joseph's staff and families, Trish Cameron said she was told June 1 she would not be offered a contract for the following school year because of her response to a question on a self-evaluation.
The question concerned whether she supported the Catholic Church's teachings, she wrote in the letter.
Her response, as quoted in her letter, reads: "I do not agree w/ all Church teachings on a personal level but I do not bring my own opinions into our religion classes. We tend to focus on respect and love for one another and living out our call as servants whenever a 'political' topic crops (which it rarely, if ever, does)."
After a later discussion with school administration, Cameron said in the letter that she told them she did not agree with the church's stance against gay marriage. Because of her dissent, she was asked to write a brief letter of resignation.
The school sent a letter to parents calling it "an unfortunate circumstance" but said it was the school's "fiduciary responsibility" to ask her to leave.