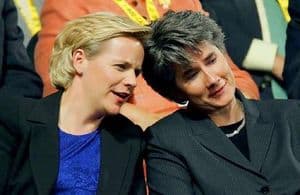 Mary Cheney had married Heather Poe, ABC News reports:
In a statement issue by Dick Cheney and his wife, Lynne, said, "Our daughter Mary and her long time partner, Heather Poe, were married today in Washington, DC. Mary and Heather have been in a committed relationship for many years, and we are delighted that they were able to take advantage of the opportunity to have that relationship recognized."
The former vice president added, "Mary and Heather and their children are very important and much loved members of our family and we wish them every happiness."
Dick Cheney has publicly supported marriage equality for three years now. He first expressed support in June 2009 in an appearance at the National Press Club.