Equality Ohio's Exectuive Director Ed Mullen has resigned, WBNS reports:
Court records showed that gay rights organization director Ed Mullen III went onto another man's property Saturday and threatened him. Mullen was not available for comment on Thursday.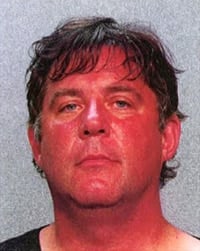 According to Back2Stonewall:
while details are sketchy it appears that on June 16 at 7:21 PM CPD were called to 231 Buttles Avenue in Columbus responding to a call of a disturbance.  Upon arrival Mullen was arguing with the victim whose name is unkown.  Columbus Police questioned Mullen but were weary of the answers that they were being given.  Including the fact that Mullen told the Police Officers that "he was from Chicago and was in town temporarily".  Columbus Police decided to take Mullen downtown for further questioning at which point Mullen's turned to the victim calling him a "f**king asshole" and telling him that "the war was on" at which time Mr. Mullen was placed under arrest.
Equality Ohio released the following statement to Towleroad:
Yesterday, Equality Ohio accepted the resignation of Ed Mullen, our Executive Director, effective June 29. Since he joined our staff in January 2011, Ed brought tremendous vitality and keen legal insights to our organization, stabilized our operations and financial support, and led the development of a nationally recognized strategic plan. The boards of Equality Ohio owe a debt of gratitude to Ed for his leadership and we wish him the very best in all his future endeavors.
.
Leadership transition planning is underway. The Equality Ohio boards will appoint an Interim Executive Director very soon and charter a national search to find a new leader who will continue the tremendous gains which have been made in the last year.
.
As the statewide authority advocating for LGBT families with over 30,000 members, we will not waver from our strategic plan that is already in place.  Our two legislative priorities remain the passage of the Equal Housing and Employment Act (HB335 / SB231) and enumeration of the safe schools legislation which was passed last year (HB208). We will continue to work with LGBT rights organizations throughout Ohio and nationally to achieve those goals. Equality Ohio will also continue its leadership in the formation of the broad statewide coalition pursuing marriage equality for all Ohio families.