Trevor Thomas, the former Communications Director for Servicemembers Legal Defense Network ant Media Matters staffer who is running for Congress in Michigan's 3rd District, can win the Democratic primary there if he obtains the funding to get his message out, a national pollster tells Mlive: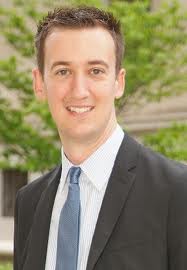 Mark Mellman's firm says a recent 400-person survey of registered Democrats shows Thomas with lower name recognition and overall favorability rating than [Steve] Pestka.
But when presented with what the firm and the Thomas camp say is a fairly worded description of both men, Thomas surges to a 22-point lead from a 21-16 point deficit.
"Trevor Thomas has a fantastic opportunity to defeat Steve Pestka in Michigan's 3rd Congressional District in what begins as a close race with a huge number of undecided voters," Mellman wrote in a memo to the Thomas campaign. "Our poll confirms Thomas has a powerful set of messages at his disposal if he can raise the funds to get that message out." …
"The reality is I need to be able to match his spending, but I'm very conscious that we may be outspent if he chooses to spend large amounts of money from his own pockets," Thomas said.
At the end of the March, Pestka had about $105,000 more in cash on hand, according to campaign finance records. Reports for the second quarter have yet to be filed.
If you wish to help Trevor out, you can do so HERE.