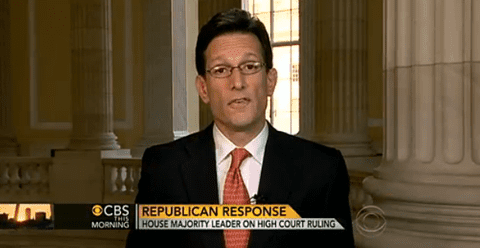 Republicans are absolutely itching to fight back against the Affordable Care Act, President Obama's health care law the Supreme Court upheld yesterday, and now it seems they'll get their chance.
House Majority Leader Eric Cantor appeared on CBS' This Morning today and said he and his Republican colleagues in the House are planning a vote for early next month:
"We know that most of the American people don't like this law," Cantor said on CBS' This Morning Friday. The House, he said will "look towards the kind of health care people want," which he said is "patient-centered."

Cantor said that the Republican-led House will take up a repeal vote on July 11th, after Congress comes back from its July 4th recess. The House first voted to repeal the law in January 2011, soon after Republicans took control. The move, however, was essentially symbolic.

The Senate Republican Leader Mitch McConnell also said Thursday that Congress should repeal the law, but Democrats have control of the Senate.
Senate Majority Leader Harry Reid, meanwhile, is telling the GOP to get over it. Our Supreme Court has spoken. The matter is settled," the Democrat said yesterday. "It's time for Republicans to stop fighting yesterday's battles."
Watch video of Cantor's remarks AFTER THE JUMP.