Democrat Ron Barber, a former aide to Congressman Gabrielle Giffords, won the race to take Giffords' House seat, The Hill reports: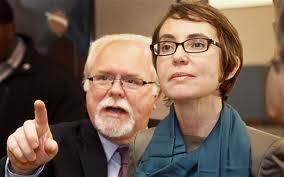 In what both candidates predicted would be an extremely close race, Barber finished 6 points ahead of Kelly, taking 52 percent of the vote to Kelly's 46, with 100 percent of precincts reporting.
In Pima County, home to Tucson and the grocery store where Giffords nearly lost her life, Barber led Kelly by double digits. Even in the more conservative Cochise and Pinal counties, where Kelly got the most votes, Barber performed better against Kelly than Giffords did two years ago.
"A year ago I never dreamt that I'd be standing here, thanking you for your support," Barber said in an address to supporters, as reported by the Arizona Daily Star. "But, as you know, life takes unexpected turns," he added, as he stood next to Giffords and her husband retired Navy officer Mark Kelly.