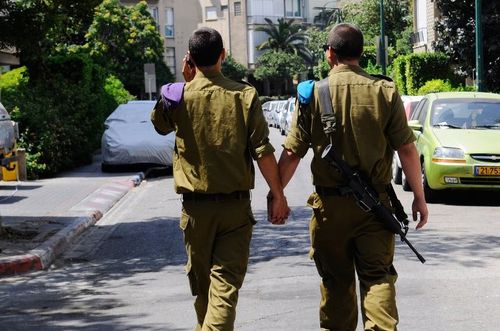 Is it the thought that counts?
The UK Guardian:
By noon on Wednesday it had been "liked" almost 10,000 times and had attracted more than 1,400 comments. But the Times of Israel news website claimed the photograph was misleading, saying: "The two soldiers in the photo are not a couple, only one of the two is gay, and both the soldiers serve in the IDF spokesperson's office."
A spokesman for the IDF refused to answer a direct question on whether the photograph had been staged, saying it was irrelevant to the military's attitudes to homosexuality.
"The photo reflects the IDF's open-minded attitude towards soldiers of all sexual orientations," it said in a statement. "The IDF respects the privacy of the soldiers featured [in] the photograph, and will not comment on their identities. The IDF prides itself on its integration of gay, lesbian, bisexual and transgender soldiers, which it says "stands out in comparison to other militaries worldwide".