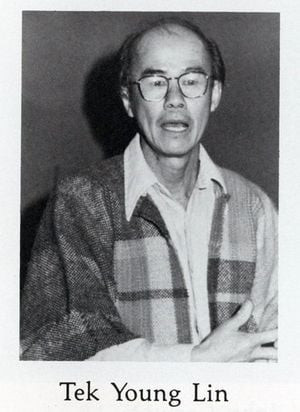 On June 6th of this year, the New York Times Magazine published a long and gruesome article on generations of sexual abuse perpetrated by male teachers upon male students at the exclusive Horace Mann School, in Bronx County, New York. The abuse happened long ago — there was no whisper that anything of the kind had occurred lately — and the abusers were all dead. From the article, they appeared to be generally awful people.
One person whom almost no one seems to believe is especially awful is 88-year-old Buddhist and former Horace Mann English professor Tek Young Lin, who went unmentiond in the original article. He was, according to a followup published today in the Times, deeply beloved by his students. He also slept with several of them, and admits it. "It seemed O.K. in those days," he told the Times.
The Times spoke to three former Horace Mann students who claimed Mr. Lin had attempted to initiate sexual contact with them. From the Times:
While at Horace Mann, Mr. Lin lived in Yonkers and had pictures of former Horace Mann students hanging on his walls, said a former student, who was 14 or 15 when Mr. Lin initiated sexual contact with him. He called these boys his "pillars."

The man said that Mr. Lin used phrases like "I just want to cuddle" and that Mr. Lin would not do anything he did not want him to do.

"Did Tek behave in a way that was inappropriate? Absolutely," he said. "Was he warm, was it a wonderful relationship? He opened up areas of philosophy to me. Yes."
The above-quoted student's relationship with Mr. Lin, according to the Times, lasted "years," though their contact was only very rarely sexual.
Since being made aware of the allegations against Mr. Lin last week, the Horace Mann School has removed his name from the English department chairmanship, which was named in his honor decades ago. Because of New York's statutes of limitations, the Times suggests it is unlikely that Mr. Lin will face any more serious punishment for his behavior. Nor does it seem the students who accuse him would want him to. From the Times:
All three students cited Mr. Lin as a positive influence in their lives, even today, and seemed reluctant to speak, not wanting to hurt the reputation of a man who had opened their eyes to philosophy and literature, and whose strict grammar rules they remembered today.

… [Mr. Lin's] Zen-like presence in a notoriously non-Zen-like environment offered students a unique outlook on the world. Long after Mr. Lin retired, some alumni started a Facebook page,"Fans of Tek Young Lin," and many kept in touch with him.

… During the interview last week, Mr. Lin said he was now traveling the country to try to reunite with the nine surviving members of his World War II battalion.

… [Mr. Lin] said he now understood that he might have crossed a line.

"At the time it seemed it happened and it was done, but apparently it wasn't, and if I had in any way harmed them, hurt them, I am truly, truly sorry," he said. "I hope if they have been hurt, they will overcome that hurt, and I should be very happy to help in any way I can."
It's a fascinating story, and my synopsis does justice to neither the Times profile of Mr. Lin nor their original reportage on Horace Mann. Please check it out.