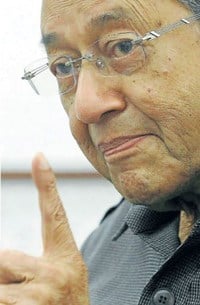 Former Malaysian Prime Minister Mahathir Mohamad, perhaps best known to readers for trying to smear a political opponent with gay rumors, said this week that being gay is "not natural" and that same-sex love will lead to the end of human civilization.
"Men marrying men, women marrying women… It's not natural. Just imagine if we all indulge in that. No children. One generation and the whole human race is wiped out," Mahathir said.

Speaking at a forum "Politics and Business: The Malaysian Connection" here, Mahathir said that once you catered for a specific group such as the LGBT, others would follow suit and ask for more rights too.

"Now we have institutions for men and men, women and women. I want to see how many children they have," he said.
Something tells me that Mohamad and Charles L. Worley, the North Carolina pastor who suggested making concentration camps for LGBT people, would get on swimmingly.