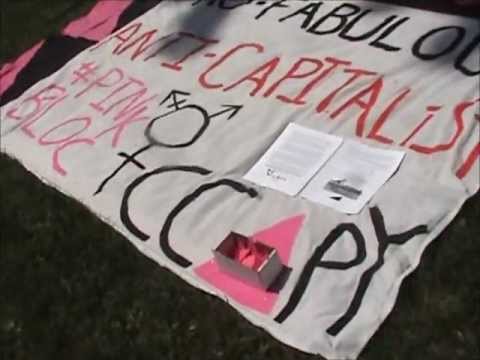 Occupy Wall Street activists will be march alongside other groups during this weekend's LGBT pride parade in San Francisco. Under the name OccuPride, the coalition of like-minded organizations and individuals are planning an in-march demonstration to protest the "economic oppression" of corporate "pink washing."
From the Bay Area Reporter:
In a phone interview this week, organizer Craig Rouskey would not confirm that [Oakland Mayor Jean] Quan was among its targeted Pride participants. The gay San Francisco resident would only say, "We have a list of targets."

Rouskey, 34, added that a stoppage of the parade is also likely, but would last no longer than 10 minutes.

"We are not doing sit-ins or die-ins. We are planning cool, direct actions aimed at community building and fun," said Rouskey. "I hope everyone enjoys it and thinks it is really cool. We are doing this for our folks. We love our community."
…
"This is actually a queer community network of groups that have come together to work on this collectively to confront economic oppression evident through the Pride parade and pink washing," he said. "We want to do it in a way that is supportive of our community. We don't want to piss off people doing good things in our community."
Mayor Quan has been under fire since she led the dismantling of Occupy camps last October. It's unlikely she'll come into direct contact with OccuPride, though: that group is marching in the parade's 94th slot, while Quan will be in the 113th slot. Organizers said they aren't intentionally trying to keep the political rivals apart, but described the arrangement as "fitting."