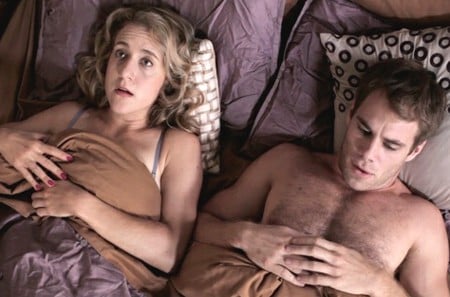 GAYBY (2012) is one of too few new gay releases
HAPPY GAY PRIDE EVERYONE! Hollywood isn't really celebrating, but we should.
This weekend's new cinema choices aren't so gay. Not to get all labelly but you can choose between an apocalyptic hetero romance (SEEKING A FRIEND AT THE END OF THE WORLD) or a new Woody Allen hetero romantic comedy (TO ROME WITH LOVE). Regarding the latter, it's worth noting that the Mayans were wrong and we'll live to see 2013. The only sure sign of the apocalypse would be a year without a new Woody Allen movie. A truth: He hasn't missed a single film year since 1981! Your other big multiplex choice this weekend is between an axe wielding US president (ABRAHAM LINCOLN, VAMPIRE HUNTER) and a new Disney/Pixar Princess with a bow and arrow (BRAVE).
The latter two films sound gay at least. Secret Abraham Lincoln diaries unearthed? Yes! Finally the truth about his relationship with "personal friend" Joshua Fry Sp– oh. It's about vampire hunting? Really? (Sigh). And it's not even funny but deadly earnest about it? Damn. Brave's heroine is Princess Merida, a tomboy who doesn't want to marry. That's closer. In more closeted olden times that would have qualified her as a latent lesbian icon (think Peppermint Patty's Marcie or Calamity "Secret Love" Jane) but given our rapid strides in the past two decades with actual lesbian icons, it's a stretch. Merida just isn't "ready" for marriage yet – give her a few years. Or a sequel.
 When will we see the next Great Gay Film? MORE AFTER THE JUMP…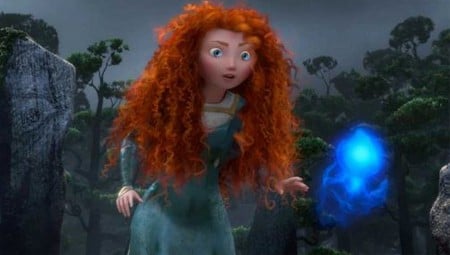 It might sound old school in a "post gay" world to ask for films which so neatly fit the LGBT labels but given the newish cultural flexibility, shouldn't the movies be reflecting it? TV is trying harder but we need more gay or gayish films. On the Kinsey Scale Hollywood's movie studios are still pretending to be a "0".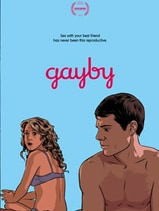 Are there new gay films on the horizon? It seems like every time you hear of one it's indefinitely delayed. Remember when Ellen Page was going to star in the feature version of that Oscar winning lesbian documentary Freeheld? It still hasn't gone before cameras. Remember when actresses as high profile as Gwyneth Paltrow, Charlize Theron, and Nicole Kidman were attached (at one point or another) to the transgendered period piece The Danish Girl? 
There's is at least one brand new gay ticket. Jonathan Lisecki's buzzy and reportedly very funny GAYBY (2012), which I haven't yet had time to see, is hitting screens this weekend in New York for Pride and will hopefully emerge in more venues as the summer progresses. But otherwise if you want gay cinema right now, your best bet is to reach back into the classic vaults over at Focus Features. 
Brokeback Mountain (2005), the crown jewel of modern gay cinema, is obviously the headliner in Focus Feature's current "10 YEARS OF CELEBRATING PRIDE" feature. Among Hollywood's mini-major studios, Focus has a great deserved reputation for supporting high quality LGBT movies and the careers of gay directors (Todd Haynes, Lisa Cholodenko) or gay-friendly directors like Brokeback Mountain's Ang Lee. Lee's US breakthrough, a full decade before Brokeback, was the gay-themed Oscar nominee The Wedding Banquet. There's only one week left in Gay Pride month but you can screen several Focus films on On Demand for another week and the Focus Features gay classics are also available at iTunes.
The film they're pushing most heavily is the newish Loose Cannons (2010) from the prolific Turkish/Italian director Ferzan Ozpetek who has made a number of gay themed features recently. This one is about the closeted gay son and heir to a conservative Pasta empire. He really just wants to be a writer. I won't spoil the flim's early twist that prevents him from coming out as he's planned but it took me by surprise. Elsewhere the film is far more predictable though still enjoyable. It's indisputably "light" but it has a good heart which is too rare in movies — even the homophobic characters are viewed with compassion despite the laughs the movie has at their ignorant histrionics. It also has good fun with the clichéd tropes it clings to like a Birdcage like setpiece where the lead's visiting gay BFFs try to pass as straight.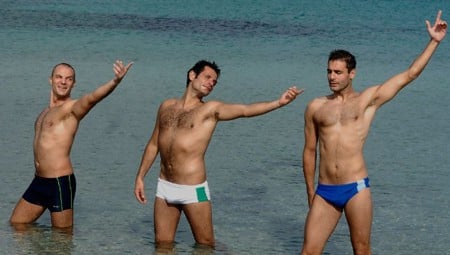 Among Focus' more familiar titles are Best Picture Oscar nominees like Brokeback Mountain (2005), Milk (2008) and The Kids Are All Right (2010), magnificent art pieces like Far From Heaven (2002) and smaller lesser seen lesbian titles like My Summer of Love (2004) – one of Emily Blunt's first and best screen roles – and last year's excellent indie Pariah (2011) which I've raved about right here on Towleroad. 
Here's a peek at Focus Features' decade-long gift-giving to LGBT moviegoers. 
If you've seen all of Focus Features gay treasures, Netflix has a number of terrific still underseen or underdiscussed gay films on their Instant Watch service: The touching Swedish romance Show Me Love (2000) about two high school girls; the erotic and thrilling Argentine crime film Burnt Money (2001); The intimate peek at drag ball culture in Paris is Burning (1991) which is only one of the best gay documentaries of all time; Yossi & Jagger (2002) a wonderfully brief but impactful Israeli feature about two soldiers in love (that's just spawned a sequel, in fact); the religious ethical angst of Priest (1995) starring a great Linus Roache is still powerful; (André Téchiné's The Witnesses (2007) about the first days of the AIDS crisis in France; and even Ang Lee's aforementioned breakthrough The Wedding Banquet (1993) about a closeted gay man's struggle with his visiting family's marital expectations for him. That's but a small sampling.
Just think how far we've come. If a gay movie were released in 2012 called The Wedding Banquet everyone would assume it was a comedy about gay marriage. Now if only Hollywood would propose to us on bended knee with a slew of great new big-ticket LGBT films.
Nathaniel Rogers would live in the movie theater but for the poor internet reception. He blogs daily at the Film Experience. Follow him on Twitter @nathanielr.