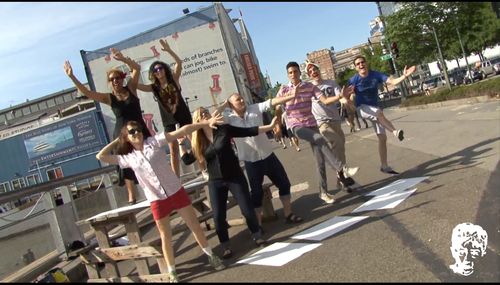 You know who's been enjoying the hell out of Pride Month? New York's Neo-Futurists, who've been performing Too Much Light Makes The Baby Go Blind since 1988, and who, for June, have taken to performing Too Much Pride Makes The Baby Go Gay. (Incidentally, the Neo-Futurists are not all gay.) Watch 'em get their pride on AFTER THE JUMP …

 The closet monster hall of shame! Featuring Roy Cohn, George Rekers, and more …

 Magnum photos of summerlove.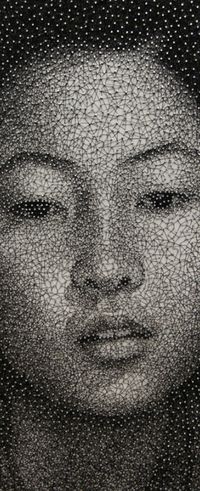 Each of these portraits is made from a single thread.

 Sandusky Victim #6, in the courtroom:
He is 25 now, lean and broad shouldered with short brown hair and big dark eyes. For years, he struggled with the fact that Sandusky, a local football hero, crossed the line with him in a locker room shower in 1998.

No. 6 was the only one of the accusers, the so-called "Sandusky 8," to come to court for the verdicts. He chewed gum with intensity, his jaws clenching and releasing as Sandusky, looking wan and bent in a brown sports jacket, lumbered into the courtroom shortly before 10 p.m.

The jurors took their seats, looking tired and sad. One woman appeared to be crying.

The young man's mother locked fingers with him with one hand, placed the other over his forearm and her head on his shoulder. She started to cry. Soon, they would hear whether there would be justice.

 Vatican hires a journalist to handle PR. Guess where from?
The Vatican will be getting some (much needed) PR help after hiring a Fox News correspondent as a senior communications adviser for the Church's top administrative office, the Associated Press reported on Saturday.

The Fox News staffer, Greg Burke, is also a member of the conservative Catholic Opus Dei group. He will leave his job at Fox, where he is a Rome-based reporter. Before working for Fox, Burke was a Rome-based journalist for Time.

 Can religion justify bullying children?

 What universal coverage meant to Obama, and how he's bracing for its possible repeal:
… Mr. Obama did not relent. He had an economic rationale for stabilizing a dysfunctional health system, but he also "saw what Teddy called the moral issue," Victoria Reggie Kennedy, Senator Edward M. Kennedy's widow, said in an interview, referring to her husband. For those who wondered what Mr. Obama really believed in, universal health coverage seemed to be the answer.

As the brutal fight continued, the president sacrificed more and more in its name: an overhaul of energy and environmental laws, greater focus on economic issues, some of his own popularity and that of House Democrats, who eventually lost their hard-won majority. "Michelle and I are perfectly comfortable if we're only here one term if we feel like we really accomplished something," he told aides.

That declaration sounds different today. Mitt Romney, the presumptive Republican presidential nominee, uses "Obamacare" as an epithet and applause line, promising outright repeal if he wins. A few years ago, the health care law seemed a reason for Mr. Obama to risk losing re-election, former aides said. Now, it is a reason he feels he must win re-election.

 What we talk about when we talk about the solar system:
… an accurate model of the solar system is literally impossible to visualize. Most of its constituent parts are so far from each other, and so tiny relative to the distances involved, that the human eye cannot see them at once. Even if you were to reduce the sun to the size of a tennis ball, and reduce the sizes of and distances between other solar objects by a commensurate amount, even a keen-eyed human standing beside the sun would be unable to locate our system's planets without a telescope.

Let's say the sun really was the size of a tennis ball. If you like, picture it sitting in the turf, smack in the middle of the 50-yard-line at a football stadium. The nearest planet is Mercury, and you can't see it. It's less than half the diameter of the period ending this sentence, and it's lost in the grass, ten feet from our tennis ball sun …

 Americans place a lot of faith in the church, the military, and the police, but very little in judges and journalists.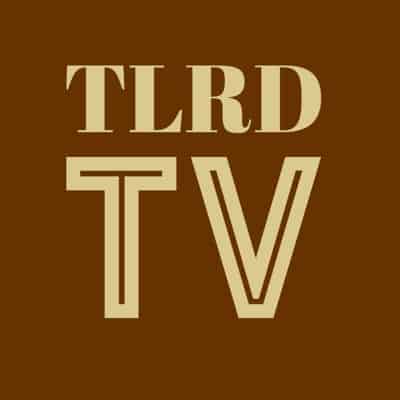 Bonus: They're also getting their audiences to lip-sync, on-cam, to "Call Me Maybe," in the hopes of emerging with a viral video. How do you think it's going?