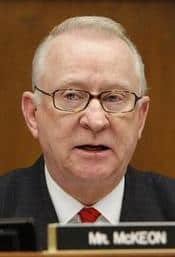 Conservatives looking to overturn the Don't Ask, Don't Tell repeal have no ally in Republican Congressman Howard "Buck" McKeon. Speaking with reporters today, the California representative said he won't cede to right wing pressure and launch an anti-gay fight against gay and lesbian soldiers.
"We fought that fight," McKeon, who is currently chairman of the House Armed Services Committee, said this morning during a briefing with defense reporters. "That's not something that I would personally bring up."
McKeon, you may recall, is one of the Republican leaders who tried to delay repeal last year. "The department is not ready to implement the repeal because all the policies and regulations necessary for the transition are not yet final," he said at the time.
Clearly he realizes the armed services have cross the rubicon on this particular issue.