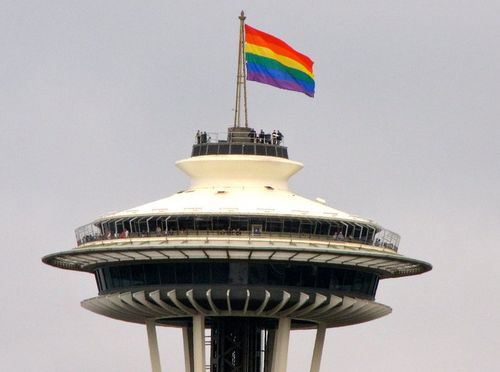 General Motors is flying the rainbow flag for gay pride, but the same can't be said for the Seattle Space Needle. Though the landmark has previously unfurled the iconic colors to celebrate their LGBT denizens, officials are again foregoing any celebration.
"As we don't raise any flag but the American flag on a regular basis, there are no plans to raise the Rainbow flag again this year. We will continue to support equal rights and actively foster these causes as we have in the past," a needle spokesman told Seattle's Q13 Fox affiliate.
This should come as no surprise: officials last year said they didn't want to "make a habit" of flying the flag.
The absence the flag this year, of course, comes as marriage equality activists are rallying their troops for a public vote on legalizing same-sex nuptials in the Evergreen Flag.
Watch Q13's report AFTER THE JUMP.