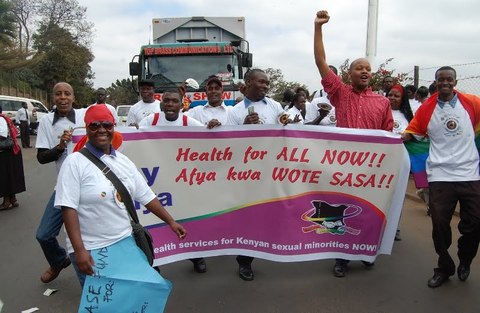 American diplomats in Kenya are breaking some pro-gay ground next week.
Identity Kenya reports that the U.S. embassy there will celebrate LGBT pride next Tuesday, June 26th. This is the first time American officials have celebrated pride in the African nation, where gay love remains illegal, and local activists hope this will be a watershed moment for Kenyan society.
Eric Gitari, a queer activist who works for the Hebrew Immigration Aid Society, told reporter Denis Nzioka, "Pride, which the White house and most American embassies across the world mark June every, is a powerful example to governments on how to leadership should be in protecting minority groups, in celebrating diversity and fighting prejudices."
"For some of us fighting for the respect and equal rights of LGBTIQ persons in Kenya, it inspires hope for a near future where the Kenyan government will take a strong stand against discrimination on the basis of sexual orientation and gender identity-in legislation, policy and practices."
It's unclear whether there will be any backlash against the U.S. effort, but it wouldn't be surprising. Homosexuality is still very much disdained by the majority of Kenyans, so much so that earlier this year a crowd stoned a gay man to death in the nation's capital, Nairobi.