Italian footballer Antonio Cassano, a Serie A player for Milan and a striker for the national team, has caused controversy in Krakow after being asked about gay players on the Italian team in advance of the Euro 2012, the Guardian reports: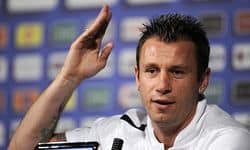 When asked about media reports that there were two metrosexual players and two homosexual players in the Italy squad, the Milan forward said: "What's a metrosexual?" before adding: "Queers in the national team? That's their business. But I hope not."
Earlier this year Cassano's Italy team-mate Antonio Di Natale said that it would be difficult for any player to come out whereas the national team coach, Cesare Prandelli, has been supportive of gay footballers.
UPDATE: Apparently the term Cassano used was more like "faggots".
He's now backtracking:
"I am sincerely sorry that my declarations have sparked controversy and protests in the gay community: homophobia is a feeling that does not belong to me. I did not want to offend anyone and in no way do I want to question the sexual freedom of people."