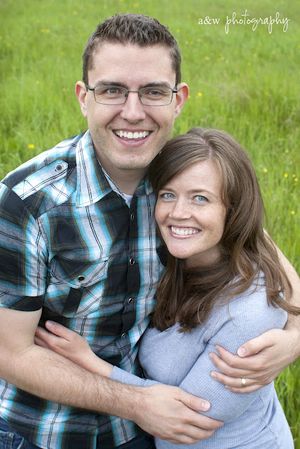 This is, I promise, one of the most fascinating things you'll read this June: The blog post in which Josh Weed, full-time "marriage and family therapist" and part-time humorist, comes out of the closet.
Thing is, Josh Weed is a very devout Mormon, and he's married to a woman. He and his wife, Lolly, have three daughters. Lolly and Josh have been friends since they were kids, and Lolly's known Josh was gay since he was 16. They got married anyway, and they reportedly have a "robust" sex life. But Josh says he's not bisexual. From the blog:
Some might assume that because I'm married to a woman, I must be bisexual. This would be true if sexual orientation was defined by sexual experience. Heck, if sexual orientation were defined by sexual experience, I would be as straight as the day is long even though I've never been turned on by a Victoria's Secret commercial in my entire life. Sexual orientation is defined by attraction, not by experience. In my case, I am attracted sexually to men. Period. Yet my marriage is wonderful, and Lolly and I have an extremely healthy and robust sex life. How can this be?
The truth is, what people are really asking with the above question is "how can you be gay if your primary sex partner is a girl?" I didn't fully understand the answer to this question until I was doing research on sexuality in grad school even though I had been happily married for almost five years at that point. I knew that I was gay, and I also knew that sex with my wife was enjoyable. But I didn't understand how that was happening. Here is the basic reality that I actually think many people could use a lesson in: sex is about more than just visual attraction and lust and it is about more than just passion and infatuation. I won't get into the boring details of the research here, but basically when sex is done right, at its deepest level it is about intimacy. It is about one human being connecting with another human being they love. It is a beautiful physical manifestation of two people being connected in a truly vulnerable, intimate manner because they love each other profoundly. It is bodies connecting and souls connecting. It is beautiful and rich and fulfilling and spiritual and amazing. Many people never get to this point in their sex lives because it requires incredible communication, trust, vulnerability, and connection. And Lolly and I have had that from day one, mostly because we weren't distracted by the powerful chemicals of infatuation and obsession that usually bring a couple together (which dwindle dramatically after the first few years of marriage anyway). So, in a weird way, the circumstances of our marriage allowed us to build a sexual relationship that is based on everything partners should want in their sex-life: intimacy, communication, genuine love and affection. This has resulted in us having a better sex life than most people I personally know. Most of whom are straight. Go fig.
So — Josh's gayness somehow improved his het sex life. It's a crazy world.
Josh's blog post is a little bonkers — less because of his love life (which, like most love lives, looks a little bonkers to those on the outside looking in) than because of his Mormonism (which is just bonkers, full-stop) — but it's kind of sweet, too. If he's to be taken at his word, it seems he ignored the imperatives of his own natural attractions to settle down with the person he believed to be his soul-mate, and with whom he wanted to build a family. If he was an atheist or a Unitarian or a Buddhist who did that and wrote about it, he'd be proclaimed a bold sexual rebel. The fact that he just happens to be a member of a religion that condemns homosexuality makes the decision feel a lot less bold, and more like the result of brainwashing —
— but he's so nice! So reasonable! From the blog:
About two years ago, I saw a psychologist to get medication for my ADHD-I.  She was a lesbian, and when I told her that I was a gay man in a heterosexual marriage, she spent an entire session hammering me with questions about my situation in a genuine effort to make sure I was happy. I didn't love that she did this, but as a clinician myself, I understood where she was coming from.
During our conversation, she told me about her life with her partner. She spoke of a girl, whom she considered her daughter, who is the biological child of her ex-lover, with whom she lived for only three years. She told me of how much she loved her daughter, but how infrequently she got to see her. And eventually, when talking about my sex life, she said "well, that's good you enjoy sex with your wife, but I think it's sad that you have to settle for something that is counterfeit."
I was a little taken aback by this idea—I don't consider my sex-life to be counterfeit. In response, I jokingly said "and I'm sorry that you have to settle for a counterfeit family." She immediately saw my point and apologized for that comment. Obviously, I don't actually think a family with non-biological members is counterfeit in any way. I also don't feel that my sex-life is counterfeit. They are both examples of something that is different than the ideal. I made that joke to illustrate a point. If you are gay, you will have to choose to fill in the gaps somewhere. She chose to have a family in a way that is different than the ideal. I choose to enjoy sex in a way that is different than the ideal for a gay man. It all comes down to what you choose and why, and knowing what you want for yourself and why you want it. That's basically what life is all about.
True! And it would sound even truer coming from somebody who doesn't base his life decisions on a book that claims Native Americans first sailed to America from the Levant.