I guess there's a clear choice now in the Kansas Board of Education race.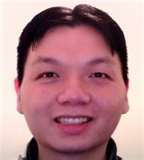 LJWorld reports:
Jack Wu told The Topeka Capital-Journal that he decided to run for the State Board of Education after learning that Democratic incumbent Carolyn Campbell, also from Topeka, would otherwise be unopposed for a second term in the 4th District of eastern Kansas. Campbell supports the state's current science standards, which treat evolution as a well-established, core scientific concept.
Wu's link to the Rev. Fred Phelps Sr.'s congregation has created a buzz in education circles. On a campaign website, Wu says he is a native of California drawn to the Kansas capital "after seeing the light of the Westboro Baptist Church."
The Capital Journal adds:
Wu couldn't immediately be reached for comment Wednesday, but his campaign website states he is a native of California who "moved to Topeka, Kansas after seeing the light of the Westboro Baptist Church."
The website, www.jpwu.info, appears to be under construction. Under a "Biography" link, the site states that Wu's mission in running for office is to "make a difference in this evil city of Topeka and this perverse state of Kansas." It goes on to say that students "don't need Satanic lies like evolution filling their heads, and if elected to office, Jack would like to purge such lies from the curriculum."
Reached by phone Wednesday, Westboro Baptist spokeswoman Shirley Phelps-Roper said Wu is an "acquaintance," but isn't a member of the church. "He's just a friendly little guy," Phelps-Roper said. "I know who he is, he lives in my neighborhood, but he's not a member of our church." Phelps-Roper said she wasn't aware of Wu's candidacy.
Rachel Hockenbarger was picketing outside The Topeka Capital-Journal on Wednesday and identified herself as a member of Westboro Baptist. Hockenbarger confirmed that Wu isn't a member, but said it isn't unusual to spot him at Westboro Baptist services. "He attends church on a somewhat regular basis," Hockenbarger said. "You don't have to be a member to attend. You just have to behave yourself."
(h/t good as you)