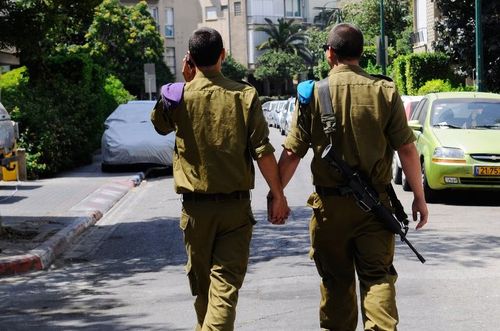 The Israeli Defense Forces posted this photo to its official Facebook page today, with the following caption:
"It's Pride Month. Did you know that the IDF treats all of its soldiers equally?"
The photo has generated more than 3,000 shares and nearly 5,000 likes as of this post.
The HuffPost notes:
Israel was one of the first countries to abolish restrictions on openly gay soldiers serving in the military. In 1993 the country adopted a law that prohibits discrimination against gay forces, nearly 20 years ahead of the repeal of "don't ask, don't tell" in the United States.
Yet despite the military's liberal policies, a 2011 study showed more than 40 percent of gay and lesbian soldiers in the IDF say they have been harassed because of their sexuality. According to Haaretz, 45 percent of respondents claimed homophobic remarks remained frequent, with soldiers in combat units reporting them more frequently.