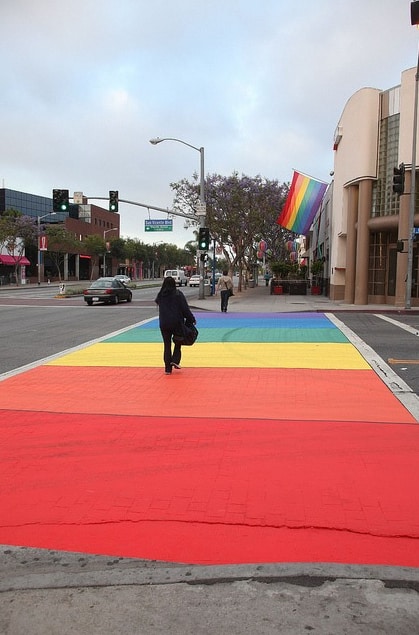 Walking in LA? You'll find America's gayest intersection in West Hollywood, at the intersection of San Vicente and Santa Monica.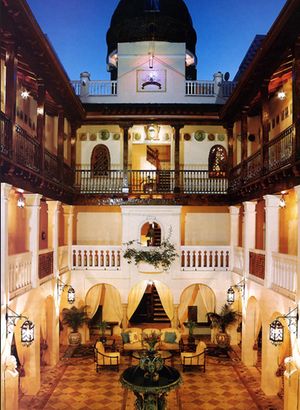 Versace's South Beach manse hits the market. Asking price: $125 million.
Known as Casa Casuarina, the 10-bedroom, 11-bathroom house overlooks the ocean. Mr. Versace bought the home and its adjacent lot in 1992 for just under $10 million and then invested another $33 million in the property, adding a 6,100-square-foot south wing, a 54-foot-long mosaic-tiled pool lined with 24-karat gold, a mosaic-covered courtyard and frescoes on the home's walls and ceilings. He was killed outside the home in July 1997. Peter Loftin, a telecom entrepreneur, purchased the property in 2000 for $20 million. After using it as a residence for several years, Mr. Loftin turned the home into a boutique hotel with a restaurant and opened it in late 2009 as the Villa by Barton G.

Yesterday I posted this awesome country-song-cum-It-Gets-Better video. Here's a making-of vid, in which the principals explain why the world needed a countrified It Gets Better video in the first place. 

MP Dr. Liam Fox, babbling British bigot, explains that only a "metrpolitan elite" cares about marriage equality:
"This is a contentious issue but I have to say that I am much more in favour of social mobility than social engineering.

"I think that the vast majority of the public have a completely different set of priorities from what I would call the metropolitan elite and I think they will be looking for economic and social issues to be dealt with first."

His comments come as a major Conservative donor, Michael Farmer, reportedly joined the campaign against same-sex marriage.

Is Mayor Bloomberg hip to evolutionary biology?

Religious Minnesotans divided on marriage equality:
Members of Minnesota's clergy are increasingly taking sides on the push for a constitutional amendment to ban gay marriage, a political battle that's pitting certain denominations against others and, in some cases, splitting believers from the same faith.

This Sunday, a group of Catholic churchgoers opposed to the amendment are kicking off the "Catholics Vote NO!" campaign, flying in the face of the church's local hierarchy, which supports the measure.

It's just the latest in a lengthy list of recent organizing efforts by the faithful — from a recent "pastor's summit" of church leaders who support a ban to a gathering this past week of more than 100 Christian and Jewish ministers opposed to it.

A peaceful Pride Parade in Croatia.

Might gay-inclusiveness be hurting J.C. Penney's bottom line?
"Mr. Johnson is alienating Penney's traditional customers in a bid to attract new customers from higher socio-economic segments that now shop Macy's, Nordstrom and Target," wrote Al Lewis of Dow Jones Newswires, which appears in the Wall Street Journal. "The result? Larger-than-expected losses, plunging revenues, dwindling customer traffic and a plunging stock price."

A further step towards an HIV vaccine.

Quick — could someone old enough to remember the disco era please tell me if Armi & Danny ever made it out of Finland? (Don't know Armi & Danny? Well then — prepare to witness the best, or maybe the worst, or possibly the only Finnish sci-fi disco ever committed to Betamax, AFTER THE JUMP … )