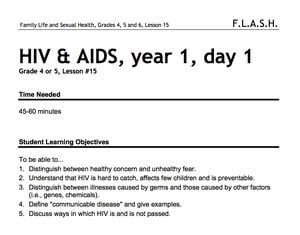 Salon's Tracy Clark-Flory has penned a neat summary of and reflection on the controversy swirling around rural Washingtonian elementary school principal C.J. Gray: a principal accused, as one irate papa put it, of "raping" his daughter's mind early this month.
How'd Ms. Gray perform this brain-rape? By doing her job. Briefly: Ms. Gray was teaching the sex-ed curriculum known as FLASH — that is, Family Life And Sexual Health. Her pupils were 5th graders, and the subject under discussion was HIV/AIDS. From Salon:
The lesson plan for the HIV portion of the fifth- and sixth-grade classes explains, "We use the term 'sexual intercourse' as an umbrella expression to represent all three risky sexual behaviors: oral, anal and vaginal intercourse," it says. "These will be spelled out in later grades." But here's the important part: "That's not to say that you can't define them simply if students ask about them." That's exactly what Gray did: A student asked about oral and anal sex, and she responded with a straightforward description.
There was no demonstration, and no one's reporting that Ms. Gray used foul language. She merely explained what went where. And she even explained the anotomical particulars in heterosexual terms. A girl does so-and-so to a boy; a boy does so-and-so to a girl.
Nevertheless, The Blaze twice used word "trauma" to describe the event. And FOX News characterizes the damage thusly:
The Pannkuk and Gilliland families said they knew something was wrong when the daughters came home from school. They were quiet and withdrawn.

"You could tell she was embarrassed," Jean Pannkuk told Fox News Radio. "She didn't want to have to repeat what had been said. It was really sad to see her struggle with feeling like she was responsible."

Pannkuk and her husband sat their daughter down and asked her explain what she was taught in the class.

… "Steam was coming out my ears," he said. "I was very, very upset. I understand that they need to teach these kids sex education – but 11-year-olds? I have a problem with that. The wife and I were very – very upset."

Gilliland said another child explained to their parents that [oral sex] "was basically like a lollipop."

"There are a lot of pissed off parents besides this pissed-off cowboy," he said. "I've been told they're getting sexually active, younger and younger – maybe in the city – but not here in the country."

But Supt. Fenter told Seattle's Fox affiliate that parents were sent a notice informing them about the program – and that they had a right to review the curriculum. But he said, only three parents showed up.

Mrs. Pannkuk said she was aware of the class "but I didn't know it was going to be that explicit."

Gilliland said he has no problem teaching sex education – but this particular class went too far.

"It's one thing to teach about reproduction," he said. 'She knows about breeding her guinea pigs, horses, dogs and so on. She knows how babies are born and how they are created, but when they go teaching them these extra acts – it's appalling."

Mrs. Gilliland said it's important for parents across the nation to get involved and to pay attention.

"Be more involved in your school," she said. "See what your kids are learning. Pay attention. Talk to your kids."

She said many of the families are now dealing with the aftermath of the class.

"She should be bouncing on the trampoline, riding horses – doing normal kid stuff," she said of her daughter. "We don't need to talk about that stuff at that age.

But now they do.

"The damage is done," Pannkuk said.