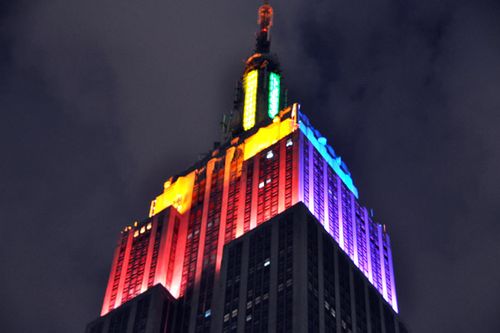 New York Pride! At some point in the next 24 hours, pictures will surface of George Takei in a Boy Scouts uniform. Stay tuned. 

 Harlem getting gayer:
 … gay men who used to date on the down-low are now coming out of the closet more readily.

Harlem may have a ways to go before it could be described as the new Chelsea. Still, one year to the day since New York State legalized same-sex marriage, members of the gay community and those who move in its orbit say they detect a palpable change in the way gays are being treated.

"There is more acceptance and higher tolerance now," says Tezra Bryant, who until this month worked as a manager at Corner Social on W. 126th St. and Malcolm X Blvd. "Businesses are starting to see the value of the gay community," she adds. "People know that when they enter a business they are to be warmly welcomed."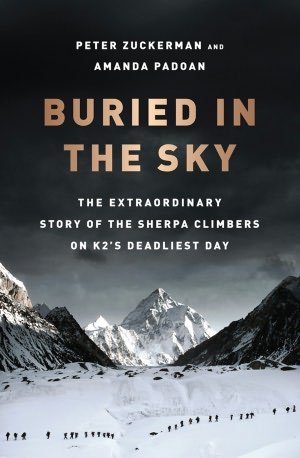 Andy reported last September on Mitch Stein, the high school water polo coach who was fired from high position for posting (rather tame) pictures on his Facebook page. Novelist Kergan Edwards-Stout interviewed him this week for HuffPo:
Kergan Edwards-Stout: Let's start first with your termination. What was your reaction when you'd learned you'd been let go?

Mitch Stein: I'm the typical mother hen, and my initial thoughts were all about my daughter, Devynn, as she currently attends the school. I wanted to make sure that I got to her with this news before she heard it from anyone else. And my second thought was, how will this affect her? I mean, thinking back to how hard high school can be, imagine how it would be if one of your parents taught at your school and was fired for being gay. All that gossip and chatter…

 Alex Trebek suffers a mild heart attack.

 It's not just Nathaniel Rogers: Entertainment Magazine wonders if Brave's Merida might be a gay heroine. 

 Sandusky's lawyers tried to ditch the case:
A day after Sandusky's conviction, his lawyers disclosed they felt too unprepared to adequately defend him because of how quickly the case was brought to trial. Experts have said the seven months between Sandusky's November arrest and trial was fast-paced by Pennsylvania standards.

"We told the trial court, the Superior Court and the Supreme Court we were not prepared to proceed to trial in June due to numerous issues, and we asked to withdraw from the case for those reasons," attorney Joe Amendola told The Associated Press.

 The US Air Force has long been an incubator of virulent, violent religious fundamentalismt. Now that something's being done about it, the GOP is accusing the Air Force of intolerance.

 Don Lemon wonders why young people are less religious than their parents; talks about "atheists" like they're an exotic animal. 

 The incredible gay journalist Peter Zuckerman has written one of the coolest books you'll read this year. It's called Buried In The Sky, and it's about Sherpas. Here's the WSJ's review:
When disaster strikes, as it did during that August 2008 climb, it is often the Sherpas and their Pakistani brethren whose courage and skill can make the difference between life and death. We learn a great deal about these remarkable men in Peter Zuckerman and Amanda Padoan's enthralling Buried in the Sky, a chronicle of "K2's deadliest day" …

 "Matt" leads the awesomest life. He travels the world, dances with people, and films it. Turns out, everybody dances. Watch his latest, lovely vid AFTER THE JUMP …