President Obama is to announce a new policy granting immunity to young immigrants eligible for the DREAM Act, the AP reports: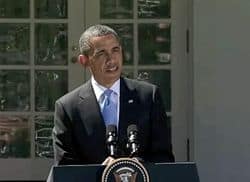 The policy change, described to The Associated Press by two senior administration officials, will affect as many as 800,000 immigrants who have lived in fear of deportation. It also bypasses Congress and partially achieves the goals of the so-called DREAM Act, a long-sought but never enacted plan to establish a path toward citizenship for young people who came to the United States illegally but who have attended college or served in the military.
Homeland Security Secretary Janet Napolitano was to announce the new policy Friday, one week before President Barack Obama plans to address the National Association of Latino Elected and Appointed Officials' annual conference in Orlando, Fla. Republican presidential challenger Mitt Romney is scheduled to speak to the group on Thursday.
Obama planned to discuss the new policy Friday afternoon from the White House Rose Garden.