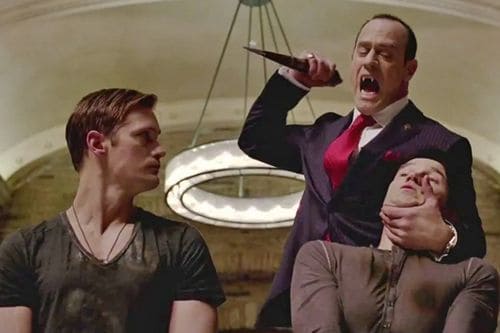 True Blood creator Alan Ball discusses how Rick Santorum inspired the current season, in an interview with The Wrap.
How did you map out this season?
For me the jumping off point was watching the Republican primaries, watching Michelle Bachman, Rick Santorum, and asking what would it be like  to have a theocracy in America – which is way more terrifying than any fictional monster could ever be.
Our jumping off point was "OK, what is a vampire theocracy?" You don't really see vampires being religious creatures. They are excluded from God. But what if there was  a vampire bible? A religion? Theocracy? How would that impact our human  characters, or vampire characters?  I haven't really seen that before.
Why Rick Santorum?
What's terrifying is how many people agree with him.
Chris Meloni comes in, he is the guardian of the blood. Supposedly they have a vial of blood of the first vampire – like a Catholic icon. The governing body of vampires is like the Catholic church plus the Supreme Court for vampires. But it's a very secret organization.