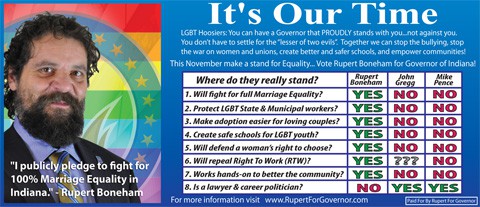 I'd like to make a correction on a post by Brandon over the weekend in which he discussed the situation in Indiana in which Republicans have removed a constitutional amendment against same-sex marriage as part of the party platform.
In the post, Brandon claimed that Libertarian gubernatorial candidate Rupert Boneham did not mention marriage equality on his website. As many of you noted, and we have in the past on Towleroad, Boneham is a marriage equality supporter and an LGBT ally. While it's not listed on Boneham's 'issues' page, there is a link on the front page of his site to a video (which we posted when he originally made it) advocating for marriage equality.
Boneham also handed out the above flyer at Spencer Pride, Indy Pride and at the upcoming OUTfest, and has been flaunting a Pride pic all month as his campaign page's profile photo.