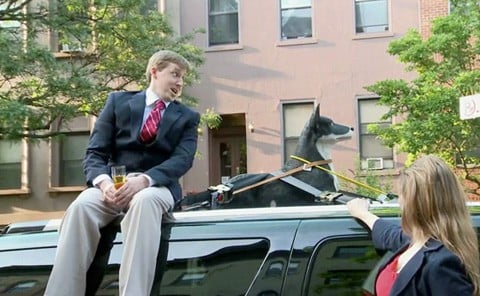 A team from MoveOn.org will be tailing the Mitt Romney swing state bus tour which embarked on Friday, they report in a new video:
Team Romneymobile is following Mitt Romney's "Every Millionaire Counts" bus tour, and is being met at each stop by MoveOn.org members who would be affected by Romney's economic policies that would rig the system further in favor of the 1%. And don't forget to look up, for airline banners that expose Romney as a candidate for President of the 1%, not President of the United States.
A main feature of the team's vehicle, a Cadillac Escallade, is Seamus II, a fake dog on the roof meant to remind people of the time Mitt did the same thing.
"How's the weather up there?," asks the team in a video. "Let us know if we have any accidents, boy."
Watch, AFTER THE JUMP…