Shirley Maclaine is set to appear on Season 3 of Downton Abbey, and TV Guide's William Keck has new details: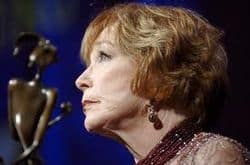 Academy Award winner Shirley MacLaine is embracing the small screen, joining PBS' Downton Abbey in Season 3, which premieres early next year. Shirley appears in the first two episodes as Martha Levinson, mother of Lady Cora (Elizabeth McGovern). "I sort of had to make her personality up," Shirley says. "She is from Long Island and finally lands at Downton Abbey and sees what's happening to the place when everyone's coming back from the war." What makes Martha interesting, she adds, is "her reactions to tradition and the class system. I do my best to be kind to tradition, but frankly think it should shift."
Maclaine said visiting the Downton set was like "stepping back in time. The whole place seemed haunted and full of otherworldly spirits."