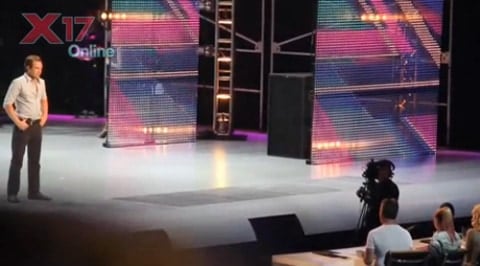 Britney Spears was confronted by a blast from the past at auditions for X-Factor this week, Popcrush reports:
"I know him. We did a duet together 10 years ago," said Spears to her fellow judges of  the contestant. So we did some serious journalistic digging and found out the contestant was none other than Don Philip, who recorded the duet  'I Will Still Love You' that appeared on her debut album '…Baby One More Time.' For the record, the song that kicks major butt…
Anyway, the audition took an emotional turn when Philip started to cry and told the judges that he's gay. "At the time I didn't think I was worthy," he said to Spears. "I didn't think you thought it was okay that I am gay." But our girl showed nothing but support, explaining that she thought it was "fine" that he was gay.
We imagine Philip made Brit a little uncomfortable during this exchange, though, considering a source said she was visibly shaken during his audition.
"She handled it unbelievably well and really stepped up to the situation," said the source. "It was probably the most personal and emotional situation for her that's happened so far on 'X Factor,' and she took it totally in stride in front of a live audience of thousands."
View part of the audition (spoilery), AFTER THE JUMP….
MTV News adds:
Philip, a Miami, Florida, native who tried to ride the same late 90's teen pop wave that made superstars out of Spears, Christina Aguilera, 'NSYNC and the Backstreet Boys, has spent the time since the duet grinding away at a music career that never reached the heights of his former singing partner. The one-time Jive Records star-in-the-making has sung back-up for Gloria Estefan and toured with Spears early in her career, and like "The Voice" singer Tony Lucca
 and Aguilera, maybe he was hoping that a reunion with his former pop pal would provide the boost he's been looking for.