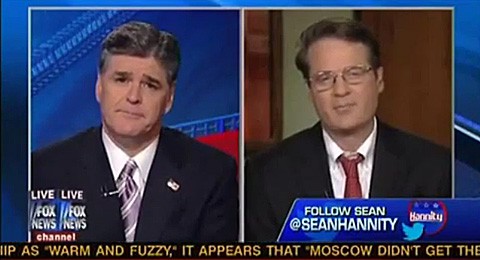 Sean Hannity spoke with Neil Munro, the Daily Caller staffer who heckled President Obama in the Rose Garden last week. Munro says he "mistimed" the question and had planned to ask it just as Obama was finishing his speech.
Watch, AFTER THE JUMP…
Meanwhile, NY Mag reports:
Neil Munro, the Daily Caller reporter who interrupted Obama's DREAM Act Lite speech yesterday by yelling, "Why do you favor foreigners over American workers?" is himself a so-called foreigner working a job, here in America. This isn't breaking news: He identifies as Irish-born on his Twitter bio, and he is currently living in D.C. on a green card. It is, however, somewhat notable and ironic when you consider the agenda behind what he maintains was "a conventional, obvious question."
Steven Thrasher of the Village Voice got the cleanest audio of the exchange that's out there. Listen to the Soundcloud file below.