Dharun Ravi has been released from jail, the AP reports: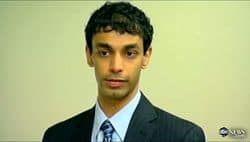 Dharun Ravi, 20, reported to the Middlesex County jail on May 31, though he could have remained free while his case is appealed.
A judge sentenced him to 30 days in jail — far less than the 10-year prison sentence he could have given him. He still faces three years of probation, plus more than $11,000 in fines and assessments, 300 hours of community service, and counseling. Like other county jail inmates, Ravi automatically was given five days off for good behavior and five for working. Jail officials say he has not done anything to have those credits taken away.
Federal immigration authorities said Monday that Ravi will not be deported to his native India. He lived there until he was 5 years old and remains a citizen, though he is in the United States legally.
Ravi's attorneys filed papers on June 4 to appeal his conviction.