No ruling on health care from the Supreme Court today, but SCOTUS did rule on several other cases, including Arizona's SB1070 immigration law. The health care ruling should be coming this Thursday.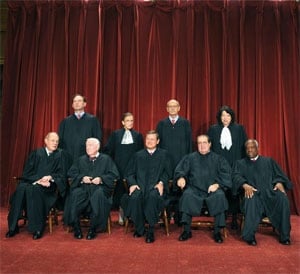 CBS News reports:
The Supreme Court on Thursday upheld the most controversial element of Arizona's immigration law, allowing the state to require police officers to enforce immigration laws. Three other provisions of the law have been struck down.
Arizona's law S.B. 1070, passed in 2010, makes it a crime to be in the state as an undocumented immigrant and compels local law officials to enforce the law. The law inspired conservatives across the country to adopt more aggressive measures against undocumented immigrants. At the same time, it spurred huge rallies across the country in 2010, with its opponents charging the measure smacks of racism and is a disgrace to Arizona.
Only eight of the court's justices ruled on the case because Associate Justice Elena Kagan recused herself. She served as President Obama's solicitor general when the administration decided to challenge the law.
Here's that opinion.
SCOTUS also rejected Montana campaign finance limits, citing the Citizens United ruling:
The 5-4 ruling was made on partisan lines, with the conservative majority voting to summarily dismiss the Montana case without oral arguments.
At issue was whether Montana elections are bound by the Supreme Court's 2010 decision in Citizens United v. Federal Election Commission, which allowed corporations, unions and other special interests to raise and spend unlimited amounts of money whenever they please to overtly advocate for or against political candidates.
The majority wrote that "there can be no serious doubt" that Citizens United applies.
SCOTUS also ruled that it's unconstitutional to sentence juveniles to life in prison without parole for murder:
The high court on Monday threw out Americans' ability to send children to prison for the rest of their lives with no chance of ever getting out.
The 5-4 decision is in line with others the court has made, including ruling out the death penalty for juveniles and life without parole for young people whose crimes did not involve killing.
The decision came in the robbery and murder cases of Evan Miller and Kuntrell Jackson, who were 14 when they were convicted.