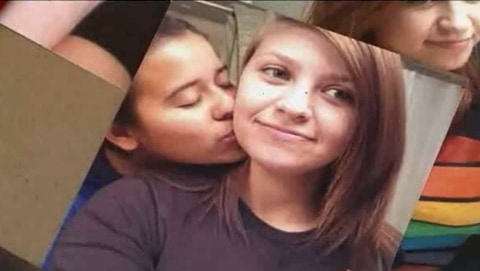 A teen lesbian couple was found on Saturday in a public park near Corpus Christi on the Texas coast. Both had been shot in the head. One is now dead. No arrests have been made.
Watch KRIS-TV's report, AFTER THE JUMP…
Mollie Judith Olgin, 19, and Mary Christine Chapa, 18, were found in knee-deep grass in a nature area in Portland by a couple Saturday, said Portland Police Chief Randy Wright, who confirmed to msnbc.com details first reported by the Corpus Christi Caller Times. Olgin, originally from Ingleside but recently living in Corpus Christi, died; Chapa, of Sinton, was rushed to a hospital where she had surgery and was in serious but stable condition on Sunday, local NBC affiliate kristv.com reported. Wright said Chapa was still in the hospital on Monday…
…When asked if police had been able to determine if the girls' sexuality played any role in the shootings, Wright told msnbc.com: "That's always something that we're looking for, but as of this point, we have not been able to establish that that had anything to do with the attack."
He said they had been in communication with Chapa. He noted all indications were that "third parties" were involved in the assault. "If we had a name, you know, we'd be having a different conversation right now. But we have not been able to gather enough information to identify a suspect yet," he said. "It appears as if … this was not just a random attack but that's something that we really have to develop over time."
Police say bullet casings were found at the scene and neighbors heard loud noises that could have been the gun, late on Friday night. According to police, the girls were found part way down an embankment off a scenic overlook. Police estimate the girls were found approximately nine hours after the attack.
Visit msnbc.com for breaking news, world news, and news about the economy