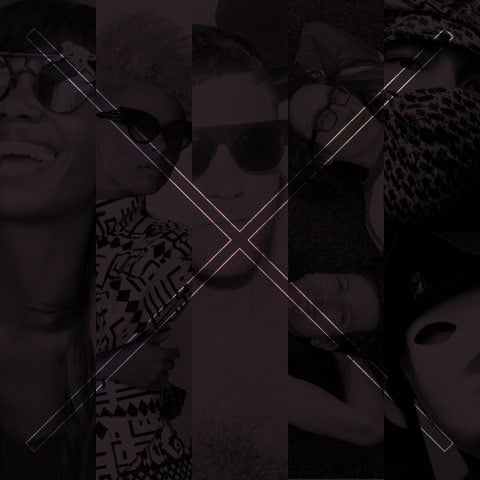 BY OCCUPY THE DISCO / JOSH APPELBAUM
The OXD Mirror is a weekly music column brought to you by the boys of OCCUPY THE DISCO (OXD), a New York City based movement created by three music lovers, Ru Bhatt, Josh Appelbaum, and Tadeu Magalhães, who want to share their love for disco, house and dance music with the world.
1. Santigold – 'The Keepers (The Knocks Remix)'
Philly native Santigold has returned 4 years after her debut album Santogold with her sophomore effort, Master of My Make-Believe. 'The Keepers' is the latest single from this relatively new release following a string of singles including 'Disparate Youth'. The song features lyrics that are very much in line with Santi's rebellious attitude and a structure is very reflective or her punk roots. Electric duo The Knocks reimagined the track as a high-energy dance tune that's sure to get your blood pumping and feet moving.
2. Sneaky Sound System – 'Friends (Plastic Plates Remix)'
It's no secret that OXD has a mild obsession with everything Plastic Plates (Felix Bloxsom) touches. In fact, this past Saturday we staked our space on the dancefloor at New York City's Le Poisson Rouge for his DJ set with a great turnout. The L.A.-based DJ/Producer/Drummer has been lighting up the music world with his unconventional remixes for artists like Adele, Mark Ronson and Katy Perry.  This time Bloxom puts his spin on Australian club-spawned group Sneaky Soundsystem's 'Friends'.  The group released their third album in October which features hard-hitting 80's club beats over singer Connie Mitchell's powerful vocals.
3. Mickey – 'Love For Sale feat. Monarchy (Jeremy Glenn Remix)'
Belgian producer Mickey teamed up with brilliant synthpop band Monarchy to create 'Love For Sale' earlier this year. Monarchy holds a special place in our hearts at OXD because it was at their NYC concert that the idea for Occupy the Disco really formed. Affinities aside, the marriage of the slick production from Mickey to the superb vocals from Monarchy created a really strong pop track. The addition of disco-turned-house artist/producer Jeremy Glenn turns the song into a lush, soulful house track.
MORE NEW TRACKS, AFTER THE JUMP…
4. Poolside – 'Slow Down'
Two weeks ago we featured a remix of The Rapture's 'In The Grace of Your Love' from these Angelenos. They are readying their debut album of self-proclaimed "daytime disco" tracks, with 'Slow Down' acting as the lead single. Poolside's penchant for relaxation, sipping mezcal and enjoying the sun is rather apparent through this track. Maybe we're suckers for mood-enhancing music, but this one has certainly made it into our ever-expanding list of songs for a lazy beach day.
5. Coleco – 'Ricky Smiley'
Not much is known about electronic production duo Coleco from Toronto. They've recently put out 2 EPs of their various reworks of popular songs, available for free on their Facebook page. As up-and-comers in the Nu-Disco scene, they've opened sets for more notable artists like Fake Blood and The Magician. Their latest, the El Verano EP, features reworks of a few notable female pop artists like Mariah Carey and Aaliyah. 'Ricky Smiley' samples Brandy's 'I Wanna Be Down' and strips the song into an upbeat and sexy new tune. I'm tempted to say I like it more than the original.
OCCUPY THE DISCO (OXD) curates and recommends music events to the gay community in NYC—in an effort to move the focus of the nightlife scene beyond the promoter and venue and to the music itself. OXD's goal is to educate, entertain, engage and empower the gay audience to reclaim their ability to question and experience the unknown. The OXD Mirror will serve to showcase tunes that are definitely off-the-beaten-path but rightfully deserve the attention of the gay ear. It's music that will make you dance, dream, and most importantly, love.
This week's post was written and curated by Josh Appelbaum.
For more information on OXD, check out our website and accompanying blog at www.occupythedisco.com, like us on Facebook, or follow us on Twitter: @OccupyTheDisco.