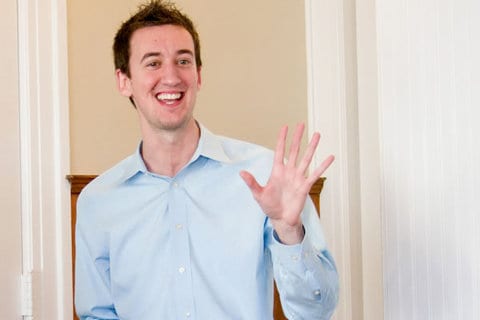 With the clock ticking toward Michigan's August 7 primaries, Congressional candidate Trevor Thomas is ramping up his campaign. And things are looking good for Thomas — that is, when voters are given more information about Thomas, meaning that Thomas needs to focus on getting his name and message out there.Today's endorsement from Rep. Patrick Murphy, a key Democrat in the fight to repeal Don't Ask, Don't Tell, could, in theory, help in that regard.
"Trevor Thomas is a passionate public servant who will stand up for middle class families and fight for the people he represents," Murphy said, according to a press release. "A member of Congress needs to be able to work with people of different views. The repeal of Don't Ask, Don't Tell didn't just happen — it required extensive legwork and a willingness to reach across party lines. We would not have succeeded in repealing this discriminatory policy without Trevor. He showed the kind of dedication and commitment we should expect from a member of Congress. In this age of partisanship and rancor, West Michigan – and America – need Trevor Thomas in Congress."
Thomas said he is "honored" by Murphy's endorsement. "Representative Murphy's work has brought America closer to realizing its promise: that all are created equal and should have the same opportunities to serve our country."
But even a high-profile endorsement may not be enough to fill Murphy's campaign coffers, and with only a few days to go before fundraising ends, he's still out there stumping for change. If you want to help him out, you can do so HERE.
Meanwhile, you can check out video of Thomas telling a bit about why he's gone into politics, how to help the auto industry and what he would do about immigration reform, AFTER THE JUMP.