Paul Canning points us to this article in Uganda's Daily Monitor which notes that Ugandan religious leaders are eager to get the "kill the gays" bill in play again: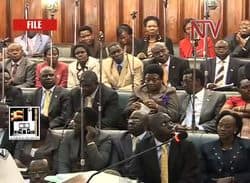 Speaking after their recent annual conference organised by the Uganda Joint Christian Council (UJCC), an ecumenical body which brings together the Anglican, Catholic and Orthodox churches, the bishops resolved that the parliamentary committee on Gender should be tasked to engage the House on the Bill which is now at committee level.
"We also ask the Education committee to engage the Ministry of Education on the issue of incorporating a topic on human sexuality in the curricula of our schools and institutions of learning," the resolutions signed by archbishops Henry Luke Orombi, Cyprian Kizito Lwanga and Metropolitan Jonah Lwanga, indicated.
The clerics also appealed to all the churches in the country "to remain steadfast in opposing the phenomena of homosexuality, lesbianism and same-sex union".
The Vatican came out strongly and publicly against the bill and, Wikileaks revealed, even lobbied against it. Uganda watchers say that the change by the Ugandan Catholic church is "very serious" and that the UJCC resolution was pushed by an Anglican Bishop.
Another concern is that, according to the East African, Ugandan President Yowari Museveni is backing his wife, Janet, to take over from him in 2016. She has close ties to American evangelical dominionist Christian groups and is widely believed to be a force behind the "Kill the Gays" bill.