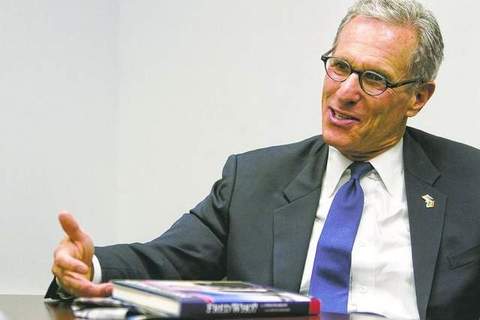 There was never even a remote possibility that Fred Karger would win the GOP presidential nomination. Forget for a second his lack of name recognition, the fact that he's never held a public office and that he trailed in fundraising. The biggest hurdle for Karger, a former Republican strategist, has always been that he's openly gay.
But that was also the point of his quixotic campaign: to show GOP voters, and others, that there are such things as gay Republicans and that our nation as a whole needs to be more receptive to LGBT politicos. His message, however, didn't always resonate within his own party, as Karger learned during a recent trip to Utah.
Though Karger and Washington County GOP Chairman Willie Billings got on swimmingly, Billings' wife was absolutely incensed over the mere idea of a gay politician.
ABC News explains:
Karger gave Billings some campaign paraphernalia, including a Frisbee and a T-Shirt. When Billings brought the souvenirs home, however, his wife, Nanette Billings, threw them in the garbage and fired off an email to Karger, calling him "a radical idiot" and saying "thank goodness" he "cant procreate."
…
"My feeling is the only reason he's running for president is to find more [sexual] partners," Nanette Billings told Yahoo News in a phone interview. "To get more people on his bandwagon."
Billings also claims that Karger's campaign was just him "thinking of himself."
"He's not running for president to fix something in the country—he's thinking of his own personal agenda, period," she said.
Billings also told the Los Angeles Times that she "would never support him" because Karger cannot procreate, which she thinks is "totally wicked." Does that mean that infertile women are wicked, as well?