To celebrate Pride 2012 and to honor the great civil rights and political successes we have earned recently, I would like to offer a series of columns on the lawyers, advocates, scholars, and individual leaders who have sacrificed so much, developed novel legal arguments, and won the legal victories upon which we stand today. It is impossible to include everyone; an entire life's work would fail to honor all of our forefathers. But these few representatives symbolize the contributions of the greater whole: a group of men and women, young and old, who have sacrificed so that we can live a life of freedom today. In today's and tomorrow's columns, the public interest lawyers.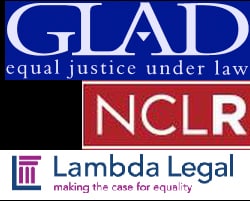 Public interest lawyers are often the unsung heroes of civil rights movements. They toil in virtual anonymity, earning much less than their colleagues in private practice and rarely getting the recognition and thanks they deserve. Even regular readers of this column, where I have endeavored to include the names of lawyers who represent our interests, likely are more familiar with John Lawrence (of Lawrence v. Texas) than John Ward, the founder of Gay & Lesbian Advocates and Defenders (GLAD), and recognize the names of press-hungry activists sooner than they would recognize the contributions of the Honorable Donna Hitchens, founder of the National Center for Lesbian Rights (NCLR). Along with the illustrious Ruth Harlow and Jon Davidson, the former and current legal director at Lambda Legal, respectively, these men and women (excepting Judge Hitchens) are all recipients of the LGBT Bar Association's Dan Bradley Award, the group's highest honor.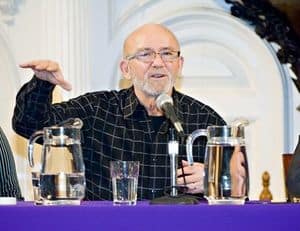 Mr. Ward (right) was a young lawyer who responded to egregious entrapment and arrests of gay men by Boston police by establishing GLAD to give a defense to the defenseless. Today, an organization that began as an all volunteer force of 4 brave souls is today one of the most successful and aggressive legal advocates for gay rights. Ms. Harlow served as lead counsel in Lawrence v. Texas, winning the most important gay rights victory in history, and Mr. Davidson has been an attorney at Lambda for more than 15 years, winning more cases than and writing more briefs than many lawyers do in a lifetime. Judge Hitchens started the Lesbian Rights Project right out of law school, a time when many other young lawyers are doing document review, and she and her successors at NCLR built a public interest legal powerhouse that helps more than 5,000 LGBT people and their families each year through litigation, public policy advocacy, and public education.
These men and women have been fighting for LGBT equality for decades. They predate the more famous team of Ted Olson and David Boies, powerhouse bi-partisan lawyers whom the American Foundation for Equal Rights (AFER) hired to successfully challenge Proposition 8 in federal court. And, while Mssrs. Olson and Boies and their team at AFER should be lauded for being brave enough to take on a fight from which others shied away, their successes in court and in the court of public opinion rest on the shoulders of those that came before.
We owe those leaders a debt of thanks, not only for the organizations they started and the cases they won, but also for the example they set for young lawyers and LGBT persons everywhere. This is their story.
CONTINUED, AFTER THE JUMP…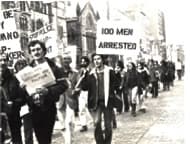 In the 1960s and 1970s, staged sting operations were a popular and convenient way for homophobic police forces to harass and arrest gay people. Morality laws on the books in most states and cities gave them the pretext, but the police often entrapped their victims into submission. That is what happened in 1978 in Boston, when plain-clothed police staked out the Boston Public Library bathroom and enticed more than 100 men over a two-week period to break the law. When the dust settled, only one of the 103 men was found guilty of "open and gross lewdness," and even that conviction was later overturned.
John Ward reacted to this gross injustice by founding GLAD. It was meant to be a resource for gay New Englanders who were threatened by police and prosecutors and it has grown into so much more than that. First, Mr. Ward filed a civil suit against Boston police and the Public Library on behalf of one of the wrongfully arrested in the 1978 sting. Then, GLAD filed an amicus brief at the Supreme Court, marking the first time a document was filed at the Court where the word gay had not appeared in quotation marks or followed by the words "so-called." This is more important than it sounds: previously, gays were never considered a legitimate group worthy of a name, let alone legal protection. Almost 20 years later, Mr. Ward was the first openly gay attorney to argue a case before the Court.
In 1980, GLAD represented Aaron Fricke, whom I wrote about here, and has been a leader in the marriage recognition movement, arguing and winning cases in Vermont, Massachusetts, and Connecticut.
Ruth Harlow, now a practicing attorney at Linklaters, has been fighting for LGBT equality for nearly as long as Mr. Ward. A graduate of Yale Law School, where she was on the Law Review, Ms. Harlow was Lambda's Legal Director from 1996 to 2003. Her career at Lambda culminated in her successful work as lead counsel and the principal strategist in Lawrence v. Texas, the foundation for every civil rights victory the gay community will ever win.
According to Professor Dale Carpenter's scholarly book, Flagrant Conduct, Ms. Harlow came to representing Mr. Lawrence with an unassailable resume of success. Just five years out of law school, she joined the ACLU's LGBT Project: She defeated Alabama's attempt to block gay student groups from public schools and universities, she won a reprieve for an HIV-positive Texas inmate who had been convicted of attempted murder after spitting at a guard, and won a successful appeal for an openly gay defendant whose trial attorney had called him "faggot" and "fairy" in court and only argued against a life sentence because "putting a gay man in prison was like putting a kid in a candy store." She was also responsible for creating and coordinating round-table meetings with other gay rights litigators from GLAD and NCLR, thus fostering unprecedented (and necessary) coordination among the groups.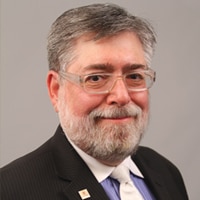 Jon Davidson, a Stanford and Yale Law School graduate, has had a similarly impressive list of successes to call his own. Just a snippet of his biography speaks for itself: He has taken the lead on cases that protected domestic partner benefits; allowed openly gay high school and college students to gather and speak their minds; secured asylum for LGBT people persecuted in their home countries; and put an end to HIV-related discrimination in employment, insurance, and public accommodations. Mr. Davidson also has helped reform antigay practices of the Los Angeles Police Department and was the co-drafter of AB 205, California's comprehensive Domestic Partner Rights and Responsibilities Act.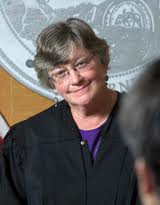 Judge Hitchens retired from the San Francisco Superior Court bench in 2010 after more than 20 years as a respected judge and a 30 year legal career. The organization she helped found, the Lesbian Rights Project, was the first group of its kind to address issues of particular importance to lesbians. Issues like custody, adoption, access to public accommodations, and equal employment were usually at the top of the list. When the Project became NCLR, it expanded its portfolio to all LGBT issues and is today at the vanguard of transgender rights. In its history, the NCLR brought the first case seeking equal health benefits for gay partners. Its lawyers represented Annie Affleck and Rebecca Smith, among the first gay couples in America to successfully adopt a child together; won the country's first second-parent adoption case; secured custody rights for an HIV-positive gay dad whose child was kidnapped by a hostile ex-wife; and successfully litigation to settlement the first school harassment case involving openly gay and lesbian students who had been subject to verbal and physical abuse for years.
These lawyers — and so many others — have inspired many of us to dedicate our lives to the cause of civil rights for gay and lesbian Americans. They not only serve as mentors, but when this or that lawyer makes his or her case — say, an Obama administration attorney arguing against the Defense of Marriage Act, or an AFER attorney arguing that marriage has long been considered a fundamental right, or when I represented a teacher who was fired simply for attending a pro-same-sex marriage rally — they rely on the legal victories of men and women like Mr. Ward, Ms. Harlow, Mr. Davidson, and Judge Hitchens. As I have argued before, every civil rights litigation victory bleeds into the next, creating doctrine and precedent that the next court can use to win us our next victory. That is why Romer, Lawrence, Perry, Gill, and other cases are so important. And, for success in those cases, we owe thanks to the lawyers that brought them.
LEGALIZING GAY – YOU MAY HAVE MISSED….
The Service Members [tlrd]
The Boy Scouts, The St. Patrick's Day Parade, and Fighting Private Discrimination [tlrd]
The Men and Women of Faith [tlrd]
The Child Plaintiffs [tlrd]
***
Ari Ezra Waldman teaches at Brooklyn Law School and is concurrently getting his PhD at Columbia University in New York City. He is a 2002 graduate of Harvard College and a 2005 graduate of Harvard Law School. His research focuses on technology, privacy, speech, and gay rights. Ari will be writing weekly posts on law and various LGBT issues. 
Follow Ari on Twitter at @ariezrawaldman.