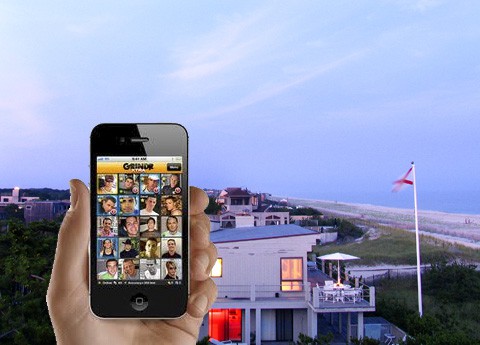 New York Magazine reports that many are upset that the social hook-up app Grindr is destroying the social scene on Fire Island:
Log in to Grindr on Fire Island, as you would anywhere else, and you'll see a grid of 100 smiling faces and headless muscled torsos, a catalogue of men accessible from the comfort of your summer share's living room. (Although cell-phone service on the island can be spotty, most houses are equipped with Wi-Fi.) The app has been called a "virtual bathhouse" and been pegged by some as a reason for the decline of the gay bar, but in a place like Fire Island, it may be especially destructive. Aside from the beach, a large part of the attraction of the Pines scene is the opportunity to rub shoulders, and maybe sleep, with attractive and powerful gay men. "Not long ago, you'd walk around here and everybody would be cruising each other, not anonymously, but face to face," said Sal Occhipinti, a tanned 43-year-old, at a recent afternoon "high tea" dance party in the Pines harbor. A few feet away, on the largely empty patio of the Blue Whale, a group of three men were busily typing on their devices next to the bar. According to Occhipinti, even the Meat Rack, the notoriously cruisy wooded area between the Pines and Cherry Grove, has been taken over by glowing iPhone screens.
Fire Island's main social hub was also destroyed by fire last November, and has only been partially rebuilt.
UPDATE: Grindr sent us a response to the story.
Grindr makes it easier for gay guys to meet other gay guys. It's a social ice-breaker, and we're confident it's having a positive impact on gay social life. Local businesses know and love Grindr. We partner with neighborhood bars and clubs around the world, and we receive great feedback from our partners. They tell us that our local promotions are driving local users to local bars. Everyone wins.
 
Even in a place like the Pines, it's great to have the option to connect with just the kind of guy you're looking for rather than simply leaving it to chance. Like many gay destinations and resorts, the Pines isn't just all about meeting people but also about being with your community, being with your friends and going out to parties and attending events.
 
In most situations, technology has proven to be super-helpful. A guy might be too shy to approach someone at Blue Whale or another establishment. Grindr allows you to find guys you might not have encountered in your daily Pines life. It could be that neighbor you've never met — the one you keep missing.
 
Grindr is never a replacement for real life, but it is a great tool to help you meet new people around the block, around the beach or around the world.