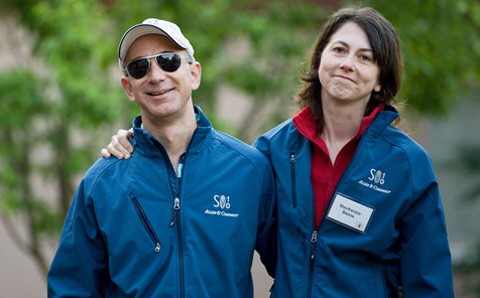 Amazon founder Jeff Bezos and his wife Mackenzie have made a $2.5 million donation to secure the freedom to marry for gays and lesbians in Washington State, Washington United for Marriage announced this morning: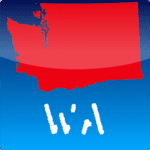 Washington United for Marriage (WUM), the statewide coalition working to defend the state's law protecting civil marriage for same-sex couples, today announced an historic, $2.5 million gift from Jeff and MacKenzie Bezos.  It is believed to be the largest individual gift in the country to secure or protect the freedom to marry.  With the Bezos' gift, WUM has now raised over $5 million towards its broad, statewide campaign to approve Referendum 74 in November.
"I am thrilled by Jeff and MacKenzie's staggeringly generous donation," said Jennifer Cast, who serves as WUM's volunteer finance co-chair and spent over seven years in various senior positions at Amazon.com. "Their support of our efforts to approve R74 comes at an important time and will have great impact.  I am deeply grateful to both of them as this donation is going to help us make history."
"The extraordinary contribution from Jeff and MacKenzie Bezos will make an enormous difference for our campaign to defend Washington's marriage law," said WUM's campaign manager, Zach Silk. "While it provides an amazing base for the work ahead, we hope it spurs others to invest because we're a long way from November and we face opponents with deep pockets who are committed to spending millions to defeat us."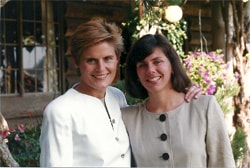 The NYT reports on the how the gift came about:
Mr. Bezos was approached via e-mail on Sunday by Jennifer Cast, one of Amazon's earliest employees and a lesbian mother of four children who is now a fund-raising chairwoman of the pro-referendum effort.
In her e-mail, sent Sunday evening, Ms. Cast, 50, implored Mr. Bezos to understand the importance of the issue to her and her longtime partner.
"I want to have the right to marry the love of my life and to let my children and grandchildren know their family is honored like a 'real' family," Ms. Cast wrote. "We need help from straight people. To be very frank, we need help from wealthy straight people who care about us and who want to help us win."
Cast described the pain she had endured as a young gay person and asked for a donation of $100K or $200K but had no idea how Bezos would respond:
"Jeff, I suspect you support marriage equality," she wrote. "I beg you not to sit on the sidelines and hope the vote goes our way. Help us make it so."
She hit "send" and waited.
Two days later, on Tuesday, she received a reply while in a car with her family. Recalling that moment, she said she had to read it out loud twice to make sure she had read it right.
"Jen," the e-mail said, "this is right for so many reasons. We're in for $2.5 million. Jeff & MacKenzie."