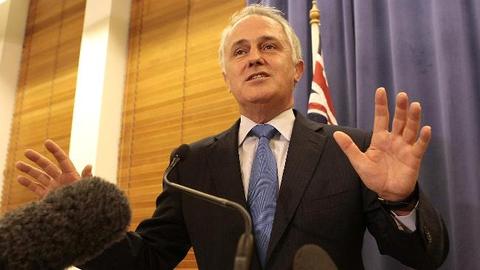 Malcolm Turnbull, the leader of Australia's Liberal Party and a staunch supporter of marriage equality, delivered a withering rebuke against opponents of LGBT rights in a speech last night.
Describing his conservative counterparts' arguments as "dripping with the worst sort of hypocrisy," Turnbull insisted "the threat to marriage is not the gays."
"It is," he said, "a lack of loving commitment – whether it is found in the form of neglect, indifference, cruelty or adultery, to name just a few manifestations of the loveless desert in which too many marriages come to grief.''
The MP also invoked his own marriage, "I am utterly unpersuaded by the proposition that my marriage to Lucy, or indeed any marriage, is undermined by two gay men or two lesbians setting up house down the road – whether it is called a marriage or not."
Australia's The Age has more from Turnbull's remarks:
"Do the bishops seriously imagine that legalizing gay marriage will result in thousands of parties to heterosexual marriages suddenly deciding to get divorced so they can marry a person of the same sex?" he said.

"Are not the gays who seek the right to marry, to formalize their commitment to each other, holding up a mirror to heterosexuals who are marrying less frequently and divorcing more often?"
With regard to gay adoptions, which a states issue there, Turnbull said that almost everyone can agree that being raised by biological parents is most often in the kids' best interest, but that such a scenario is often not an option in "particular circumstances" and that same-sex couples are vital to supporting parentless children.