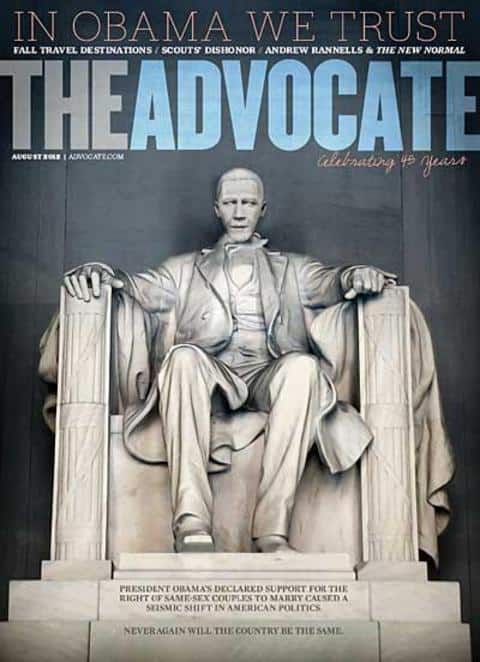 Saying the 2012 election "presents a choice between starkly opposing futures," the editorial team at long-running LGBT magazine The Advocate today endorsed President Obama's reelection campaign. This is the magazine's first presidential endorsement in "decades," but they felt compelled to back Obama because this year's race "presents a choice between starkly opposing futures."
Mitt Romney, they say, "betrays equality on numerous issues and aligns himself with a faction of the Republican Party that does not include equality among its declared ideals." And while some fear Obama's "radical" policies, The Advocate describes him as a moderate whose policies "only appear particularly progressive in contrast with the policies of his predecessor."
More from the endorsement:
By saying aloud, "I think same-sex couples should be able to get married," in a televised interview on ABC, [President Obama] has sparked conversation domestically and internationally. While he is our president at home, globally he's an icon, a symbol of the promise of America, of the promise of equality.

Obama may be the most prominent man on the planet ever, given the pervasiveness of modern media and his anomalous and historic nature as the first black American president; he is surely the single most recognizable head of state on the globe.

By virtue of his unique position, his endorsement of marriage equality is not merely rhetoric. His words constitute action. On the very face of it, his statement is enormous, and has the power to move millions in a way that a statement from no other person could have.
Read more AFTER THE JUMP.
Obama's influence doesn't exist in a vacuum, they say, and his declaration inspired other Democratic leaders and constituencies to fall in line with equality, no small feat. But their endorsement isn't simply about same-sex nuptials:
Also significant are the Obama administration's actions in support of LGBT equality. In 2009, Obama signed the Ryan White HIV/AIDS Treatment Extension Act, and announced the lifting of the ban on HIV-positive green card applicants and visitors to the U.S. He signed the Matthew Shepard and James Byrd, Jr. Hate Crimes Prevention Act, the first pro-LGBT federal law in U.S. history. After just two years into office, he had appointed more LGBTs to head commissions and agencies, to ambassadorships, and to senior staff positions than any president, surpassing the entire two-term record of Bill Clinton. He has quadrupled the number of openly gay judges on the federal bench.
You can read the rest of The Advocate's Obama endorsement HERE.