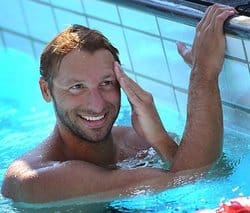 For years there have been rumors that Ian Thorpe, the Australian Olympic swimmer who has five gold medals, likes the company of men. There was even a huge tabloid story "exposing" a trip he took with a male friend to Brazil.
All this attention, he said during a recent television interview, is quite irksome:
When asked about his sexual preference he says: "Women".

However he says that he realised as young as 15 years old that gay men found him attractive.

"Being asked about (being gay) gets annoying," he says.

"I think people feel threatened by me because they can't define exactly what I am."
Thorpe, currently launching a comeback through various business ventures, also discussed the depression that overtook him after his grand showing at the 2000 Summer Olympics. "I call it the dark times," he said.