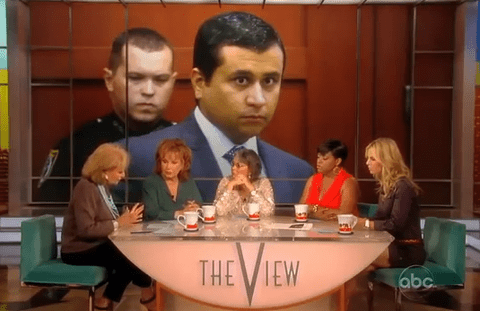 While Sean Hannity always had exclusive rights to George Zimmerman's first television interview, Barbara Walters was also supposed to have an interview with the man accused of shooting and killing 17-year old Trayvon Martin. That interview never happened.
According to Walters, she and her producers flew down to Florida to chat with Zimmerman, but the 28-year old had a demand they couldn't grant. Walters wouldn't say what that demand was — "It was a condition that, being a member of ABC News, I was unable to grant." — but many speculate cash-strapped Zimmerman wanted ABC News to put him up in a hotel for a month.
Though she didn't get to conduct an official interview with Zimmerman, Walters did spend about an hour with him and describes him as "polite, soft-spoken and stubborn."
Watch Walters discuss the aborted interview mission AFTER THE JUMP.