Bill Clinton will formally present Barack Obama's name into nomination at this year's Democratic Convention in Charlotte, North Carolina in September in a prime time speech which will also deliver an economic argument for why Obama should continue to lead the nation, the NYT reports: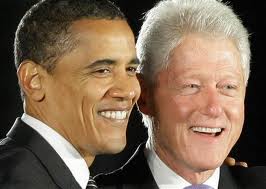 The invitation for Mr. Clinton to be center stage at the convention signifies another milestone in the complicated and evolving relationship between the two presidents.
At the party's convention in Denver four years ago, all eyes were on Mr. Clinton as he offered a full-throated endorsement of Mr. Obama in a speech that served as something of a truce after a contentious primary fight with his wife.
For Mr. Clinton, who has become one of the most popular figures in the Democratic Party, the speech will be among the most high-profile roles yet that he has assumed for Mr. Obama. The address is intended to offer a strong contrast with the Republican ticket and will be closely watched, particularly given a string of blunt statements — and retractions — that Mr. Clinton has made this year when talking about the Obama administration.
Towleroad is looking for qualified people who will be at this year's convention and are interested in serving as citizen reporters for us. Please contact us at tips-at-www.towleroad.com.