HIV is undetectable in two men who underwent bone marrow transplants researchers at Brigham and Women's Hospital in Boston announced Thursday, according to CBS News: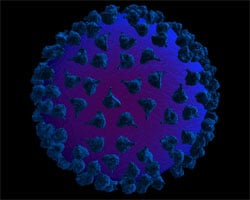 Both patients were being treated for cases of cancer. One of the patients underwent a bone marrow transplant two years ago at the Dana-Farber/Brigham and Women's Cancer Center in Boston, the other had the procedure done four years ago at the same hospital. NBCNews.com reports that one of the patients is in his 50s and has been infected since the early 1980s towards the beginning of the AIDS epidemic and the other man, in his 20s, was infected at birth.
Both stayed on their antiretroviral medication regimens, the standard treatment of HIV, following the transplants.
The researchers discovered that overtime as the patients' cells were replaced by cells from the donor, evidence of HIV in the patients' blood tests disappeared. The researchers also said both patients have no signs of HIV in their DNA or RNA and levels of their disease-fighting antibodies have also decreased. The researchers think the medications helped allow these cells to be replaced.
Timothy Brown, aka The Berlin Patient, who announced this week that he's still HIV-free after undergoing a similar bone marrow transplant, released a statement:
"Words cannot begin to express my joy that two other men may have been cured of HIV.  This reinforces my determination and belief that we must fulfill my Foundation's central mission of investing in cutting-edge therapies and treatments to advance AIDS cure research. As I have said many times before, I want everyone to be cured of this disease.  We can only hope that this case and today's development represents the beginning of the end of this plague."