The Boy Scouts of America has upheld its ban on gays after a "confidential two-year review" and says it will stand strong in the face of protest, the AP reports: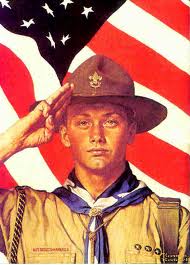 An 11-member special committee, formed discreetly by top Scout leaders in 2010, "came to the conclusion that this policy is absolutely the best policy for the Boy Scouts," the organization' national spokesman, Deron Smith, told The Associated Press.
Smith said the committee, comprised of professional scout executives and adult volunteers, was unanimous in its conclusion — preserving a long-standing policy that was upheld by the U.S. Supreme Court in 2000 and has remained controversial ever since.
As a result of the committee's decision, the Scouts' national executive board will take no further action on a recently submitted resolution asking for reconsideration of the membership policy.
Longer statement:
"Scouting believes that good people can personally disagree on this topic and still work together to achieve the life-changing benefits to youth through Scouting. While not all board members may personally agree with this policy, and may choose a different direction for their own organizations, BSA leadership agrees this is the best policy for the organization."
The statement is referring to Ernst & Young CEO James Turley and AT&T CEO Randall Stephenson, both of whom recently said that they object to the BSA's anti-gay policies.
The statement from the Scouts follows news this morning that Eric Jones, an Eagle Scout, was fired from his job as a BSA campa counselor over the weekend after telling the camp director he's gay.
The Boy Scouts had recently announced it would review its policy on gays but promised no solutions after a petition campaign from GLAAD inspired by the ousting of Ohio den mother Jennifer Tyrrell, one that Eagle Scout Zach Wahls has also been heavily involved in. Given the information provided by the AP this morning, a "confidential" review was already underway.
According to a notice from Change.org, Tyrrell will deliver 300,000 petition signatures in support of her reinstatement to the Boy Scouts of America's headquarters in Dallas, Texas on Wednesday. Video may take a few seconds to load…
Developing…